Pope Francis Met Formula E Drivers At The Vatican And Blessed One Of Their Race Cars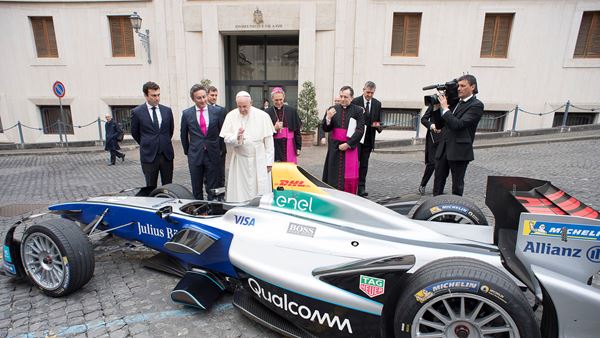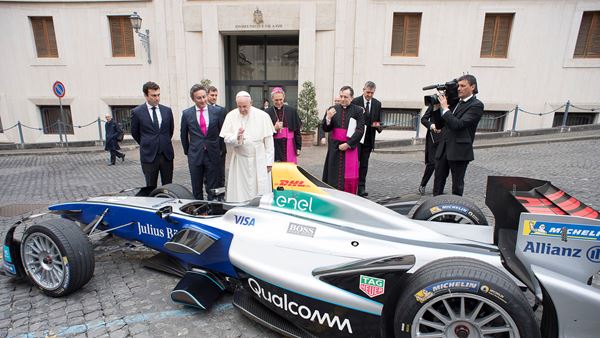 In most religious countries especially Nigeria,which ranks 9th among 40 most religious countries in the world,new cars, boats, homes, houses ,aeroplanes to mention a few, are normally blessed for reasons known only to the divine.
Last week, Pope Francis welcomed a selection of drivers competing in the Formula E Championship along with the co-founders, CEO and deputy CEO to his residence in Santa Marta ahead of the series first E-Prix on the streets of Rome on Saturday April 14.
After the usual handshakes and other rituals imposed by the occasion, the Pope went on and performed a private apostolic blessing on them and on the official championship car.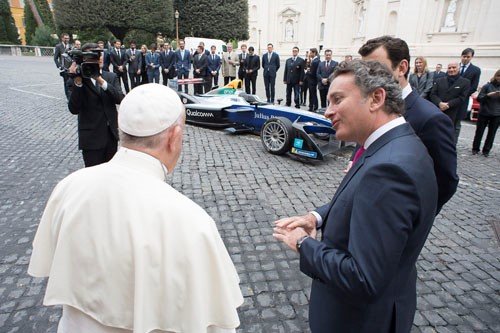 Formula E this season will have races planned in 9 countries. Only five countries including Germany, Italy, Uruguay, Chile, and Mexico, are officially Catholic states. 
China is officially atheist ,with people in divided religions like Buddhism, Taoism, and Confucianism . Switzerland has no official religion , Morocco goes the Sunni Islam way, and the Americans are mostly Christians.
Rome is round seven of the 12-race series. DS Virgin Racing star, Sam Bird won the inaugural Formula E race in Rome on saturday to boost his title hopes with his second victory of the season.