Checkout How Obaseki Used Drones To Campaign On The Streets Of Benin (VIDEO)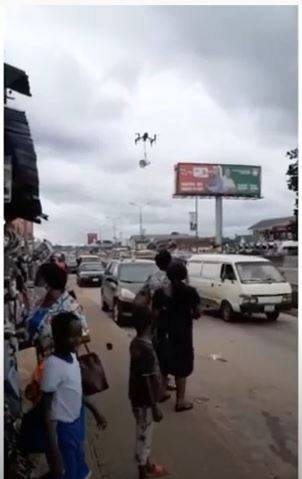 It is no longer news, the intensely anticipated 2020 Edo Governorship election has come and gone. Streets Of Benin
Winners and losers have since emerged.
It was a hard fought contest between the contestants. The main contestants included Governor Godwin Obaseki. He was the candidate of the Peoples Democratic Party, and Mr Ize-Iyamu, the All progressive Congress (APC) candidate.
Governor Obaseki scored the highest number of votes in the election. The result of the election were drawn from all Edo's 18 local governments.
Obaseki was subsequently declared winner by the Independent National Electoral Commission (INEC) on Sunday.
During electioneering, all many of campaign methods were deployed by the two major candidates.
One of such was the use of drones with megaphones attached to them by the Obaseki team to canvass for votes in Benin city, the state capital.
Watch the video of how the drones were deployed for campaigns below.
Mr Obaseki polled 307,955 votes to defeat his main rival, Osagie Ize-Iyamu who had 223,619 votes. He also won in 13 of the 18 local government areas and thus scored more than 25 per cent of votes cast in two-thirds of the local governments in the state to satisfy the second constitutional requirement to be declared governor. Streets Of Benin
Mr Obaseki won his first election in 2016 as a candidate of the APC, principally supported by Adams Oshiomhole, the immediate past governor and former chairman of the APC. Mr Ize-Iyamu was then the candidate of the PDP.
But in the course of his term as the governor, Mr Obaseki became estranged with Mr Oshiomhole, causing an epic political battle now capped off with his victory today.
The battle contributed to the fall of Mr Oshiomhole as the chairman of the APC.