The Moment Hushpuppi Received His Rolls-Royce Cullinan (Video)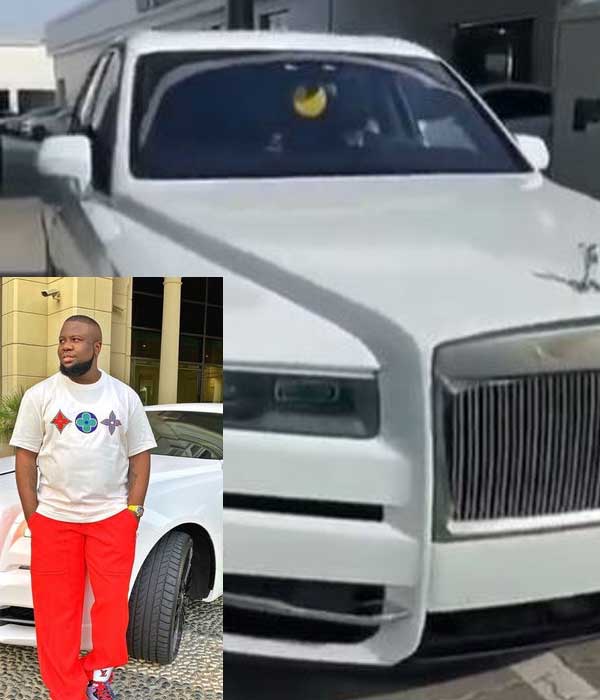 His name is Ramon Olorunwa Abbas. But to his 2.5 million Instagram followers, he went by the name Ray Hushpuppi.
It was on Instagram that he is known to display a lifestyle of opulence and flamboyance.
Hushpuppi was a man who boarded helicopters from his upscale Dubai apartment and walked around with shopping bags from Gucci, Versace and Fendi.
His ownership of flashy rides is the stuff of legends.
His garage features cars that only infinitesimal amount of people on earth can afford.
Last year, Hushpuppi bought a Bentley Bentyga for himself as Valentine's day gift. Without taking a break on his spending spree on luxury cars, a few days later he acquired a Rolls Royce Wraith. It was not just an ordinary Wraith, but a black badge.
In April 2020, Hushpuppi took delivery of a 2020 Rolls-Royce Cullinan Sport Utility Vehicle.
Watch the video of Hushpuppi taking delivery of the 2020 Rolls-Royce Cullinan.
VIDEO
Hushpuppi's all-terrain high-bodied Rolls-Royce Cullinan was an addition to his over a billion Naira car collection. The parade of cars includes a Bentley Bentayga SUV; a Mercedes Maybach S650, a Rolls-Royce Wraith and a Ferrari 458 Italia.
In June, Hushpuppi, together with some of his 11 others cronies, was arrested in Dubai. They were allegedly arrested for some fraud-related activities. They were afterwards extradited to the United State on July 3.
Investigators seized nearly $41 million, 13 luxury cars worth $6.8 million, and phone and computer evidence belonging to Hushpuppi and his accomplices.
On his last Instagram post, Hushpupi announced how he spent ₦6.2Million on a new set of luxury custom rims to adorn the 2020 Rolls-Royce Cullinan SUV.