How Much Does A Brand New Rolls-Royce Cullinan Cost In Nigeria?
In May 2018, Rolls-Royce Cullinan, the much-anticipated first SUV from Rolls-Royce Motor Cars, was released.
The Cullinan is an ultra-swanky vehicle from the luxury carmaker. If you are seeking the ultimate in prestige in SUV, the Cullinan is the top choice.
The Cullinan features sumptuous materials and a plethora of luxury features.
The V12 engine provides plenty of power and the SUV rides like a dream. Its power comes from a 6.75-litre V12 engine, producing 563 horsepower and 627 pound-feet of torque. That is more than enough power for quick acceleration, and it all comes on with an effortlessly elegant rush.
In typical Rolls-Royce fashion, the Cullinan sets itself apart from very few rivals with the signature look and rear-hinged rear passenger doors. This style of the door easily lends itself to being more of a chauffeur-driven vehicle than owner-driven.
This premium luxury SUV offers seating for five. Of course, nobody would dare buy a "standard" Cullinan. A proper Rolls-Royce should be customized to fit its owner's needs perfectly. With the Cullinan, there is no shortage of options.
In addition to typical luxury vehicle features, the Cullinan comes standard with other fittings. They include a choice of 21- or 22-inch wheel adaptive LED headlights, heated mirrors, a panoramic sunroof, soft-close doors.
It also has four-zone automatic climate control, heated and ventilated front seats with massage functions. Other features of the Cullinan include a heated second-row bench, a leather headliner, a 12.3-inch infotainment display, a wireless charging pad, a navigation system and an 18-speaker audio system.
How Much Does the Rolls-Royce Cullinan Cost?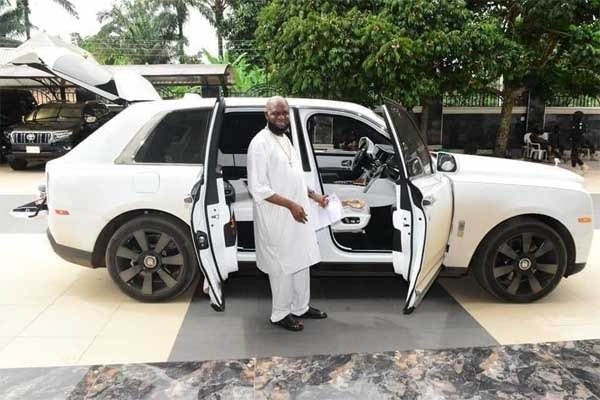 So how much does a brand new Rolls-Royce Cullinan cost in Nigeria?
A brand new base Cullinan comes with a price-tag of about N280 million.
Note that this amount covers all the post-shipment duties and charges at the port of entry into Nigeria.