Meet The Owner Of The "Abandoned" Rolls-Royce Cullinan On A Road In Ikoyi (PHOTOS)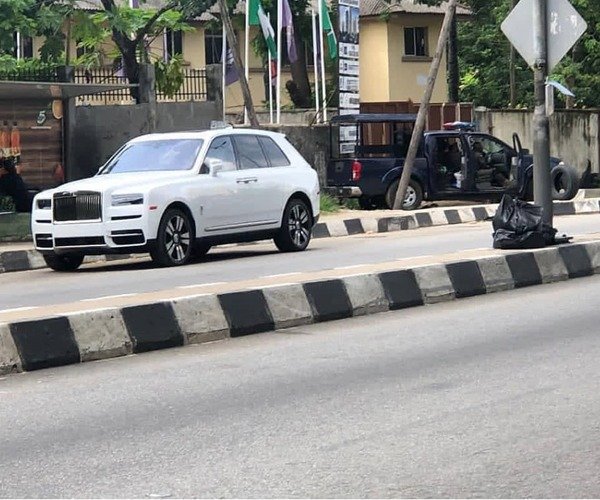 Some days ago, a photo of a Rolls-Royce Cullinan parked on a road in Ikoyi went viral.
According to the caption on the photograph, the luxury SUV broke down and was abandoned on Alexander Road in Ikoyi for days.
The story also claimed that some police officers in a police van (also captured in the photo) were contracted to secure the vehicle for the owner.
Dele Momodu, the publisher of Ovation Magazine, on a social media post, has discredited that story.
According to Momodu, the Rolls-Royce SUV belongs to Femi Osibona – a top real estate tycoon who is currently building some skyscrapers in Ikoyi.
Momodu went further to reveal that Osibona parked the car in front of one of the sites of his building projects. According to him, it was there someone took the picture and "had plenty of time to distribute the fake news".
The owner of the Rolls-Royce Cullinan, Olufemi Adegoke Osibona, is the Managing Director of Fourscore Homes. One of his luxury building project is the 360 Degrees Towers in the high-brow Ikoyi.
Rolls-Royce Cullinan
The Rolls Royce Cullinan was the most anticipated Rolls-Royce of all time before its release in May 2018.
The ultra-swanky vehicle is the first Sport Utility Vehicle from the luxury carmaker, Rolls-Royce Motor Cars.
The Cullinan features sumptuous materials and a plethora of luxury features. The V12 engine provides plenty of power and the SUV rides like a dream. Its power comes from a 6.75-litre V12 engine, producing 563 horsepower and 627 pound-feet of torque. That is more than enough power for quick acceleration, and it all comes on with an effortlessly elegant rush.