Flying Officer Oke Makes History As She Becomes First Female Pilot To Fly Solo In The L-39ZA (Photo/Video)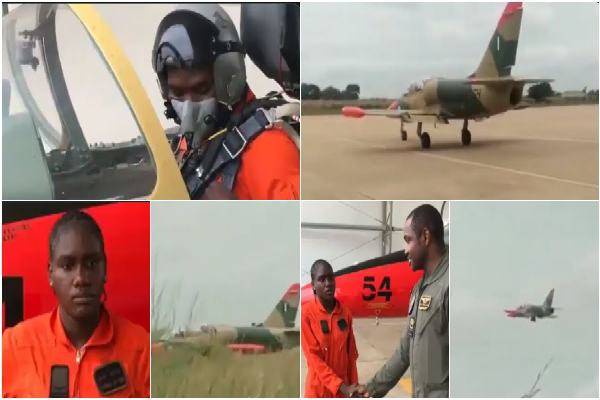 A woman who goes by the name OO Oke has become the first female pilot to fly solo in the L-39ZA in the history of 403 Flying Training School Kano
A video of her was seen on the internet and caught the attention of the viewers. 
Nigerians congratulate and wish her well in her flying career with the Nigeria Air Force.
Video Of Flying Officer Oke
The Nigerian woman who was identified as Flying Officer Oke has been found threading the path of her Fore-Leaders like Chinyere Kalu, MFR (née Onyenucheya) who was the first Nigerian female commercial pilot and the first woman to fly an aircraft in Nigeria when OO Oke was spotted flying the L-39ZA
According to the video posted on Twitter by @Jakepor21, Oke could be seen flying solo on the L-39ZA, becoming the first female pilot to do so in the history of 403 Flying Training School Kano.
The L-39ZA also called the Aero L-39 Albatros is a high-performance jet trainer developed in Czechoslovakia by Aero Vodochody. It was designed during the 1960s as a replacement for the Aero L-29 Delfín as a principal training aircraft. It was the first trainer aircraft to be equipped with a turbofan powerplant.
This video of this woman seen on the internet caught the attention of many people and demanded nothing but cheer congratulations and warm wishes of success to her in her flying career with the Nigeria Air Force.
It is therefore worthy of note that that the urge for new discoveries and records by Nigerians especially by Female pilots is setting up a positive standard. Furthermore, this will better challenge everyone and create a society where there seems to be no iota of relenting.