Throwback: When A Porsche Cayenne Towed A 284-tonne Airbus A380 To A Distance Of 42-meters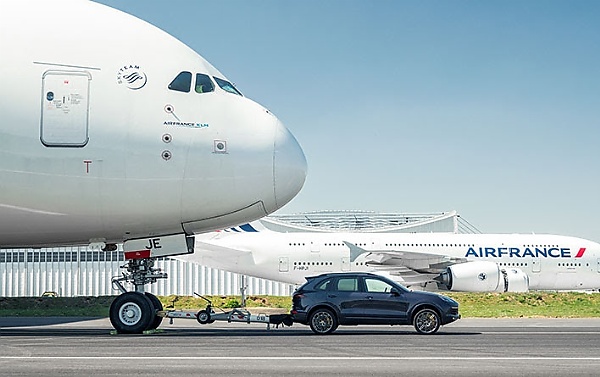 Throwback: When a standard Porsche Cayenne towed a 285-tonne Airbus A380 to a distance of 42-meters.
The Cayenne S Diesel pulled a 285-tonne Air France Airbus A380 – which over 100 times as heavy as the Porsche.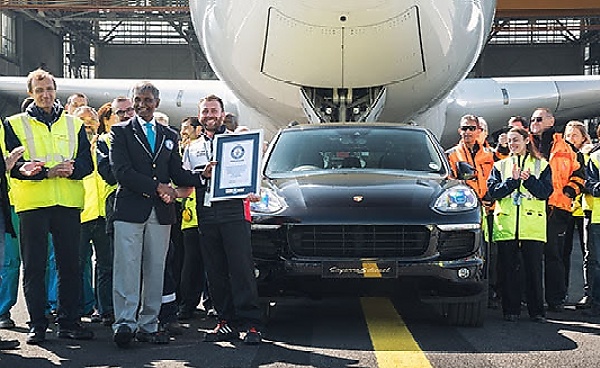 Back in April 2017, a standard 385-horsepower Porsche Cayenne S Diesel set a new world record after towing a 284 tonnes (626,112 lb) Air France Airbus A380 aircraft to a distance of 138 feet (42-metres) at Charles de Gaulle (CDG) Airport in Paris, France.
The feat – a new Guinness world record for a production car's heaviest aircraft pull – beat the previous world record set by a Toyota Tundra pickup by 115 tonnes. A full-sized 381 horsepower Tundra Pickup had in 2012 towed a 300,000 Pound space shuttle over a bridge across I-405 in Los Angeles, taking around five minutes to complete the trip.
Porsches' record, which still stands till today, was the brainchild of Porsche GB technician Richard Payne. Speaking about what he had achieved in a Porsche Great Britain statement, Payne said :
"I'm so relieved! We don't usually go this far to test the limits of our cars, but I think today we got pretty close. I could tell that it was working hard, but the Cayenne didn't complain and just got on with it".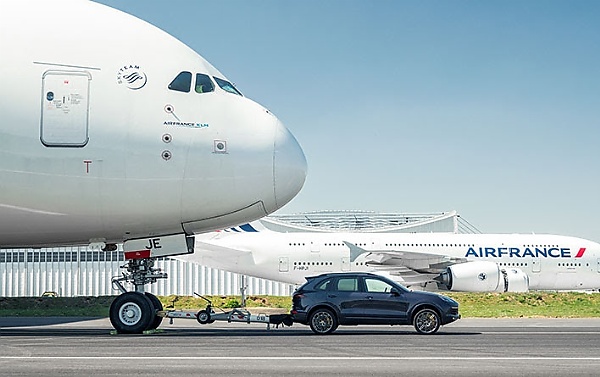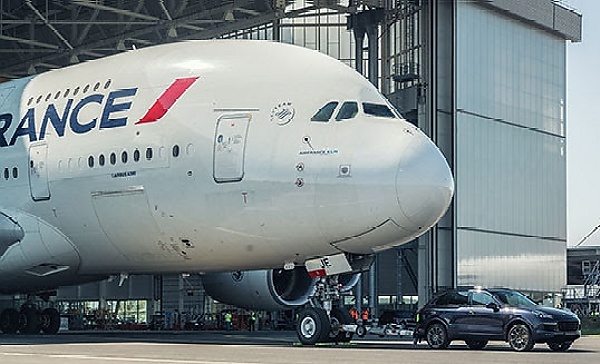 "Our cars can go a bit beyond what our customers might expect… what the Cayenne did today was remarkable – we drove the car here from London – and I plan to drive it home again, having towed an A380 in between.
I'm also very grateful to Air France and its engineers for their generosity in allowing me to tow their beautiful aircraft."
When speaking about its part in the endeavor Executive Vice President of Air France Industries Gery Montreux said :
"Like Porsche, Air France Industries KLM Engineering & Maintenance thrive on excellence and pushing engineering boundaries. It was an honor to host Porsche at our hangar at Charles de Gaulle, which is usually home to our engineers working on our fleet of ten Airbus A380s – one of the most sophisticated aircraft in the world"
Air France has since sent the aircraft it took delivery in May 2011 to Tarbes, where it is being stored along with hundreds of other retired aircrafts. Air France was the first airline to retire its entire Airbus A380 fleet.