Six Trucks Razed After A Truck Crushed Four Students, Motorcyclist To Death In Ibadan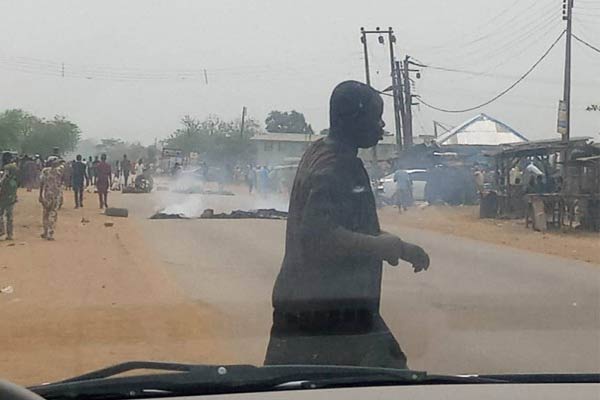 Six trucks reportedly razed by angry youths after a truck crushed four students, motorcyclist to death in Ibadan. 
The truck was trying to avoid an animal before the incident happened. 
Four students of Idito High School, Erunmu Ibadan have lost their lives after a truck crashed into a motorcycle conveying them to school.
The students who were reportedly of the same father but different mothers were on their way to school to write their second term examination when the incident happened.
Reports learnt that the truck driver was trying to avoid hitting an animal before he rammed into the students.
In protest, the students of Idito High School and some aggrieved youths in the axis made burn fire on the road which prevented vehicular movement in the axis. They said they were tired of losing innocent lives due to the reckless attitude of truck drivers in the area.
No fewer than six trucks were reportedly razed by the aggrieved youth who trooped to the street.
READ ALSO:

Man Blames FRSC Officials For Causing An Accident Which Claimed 3 Lives In Ibadan (Photos & Video)
Not only this, commuters in the axis had a hectic moment. This resulted in  trekking a long distance before getting cabs and motorcycles to their destinations. Meanwhile private cars had to hang leaves on their vehicles to show solidarity.
Some students of Idito High School expressed concern about the incessant lost of lives on the highway.
Unconfirmed report has it that the mother to the two of the deceased lost her life after hearing the news. Report also gathered that their father died a month ago.
Security personnel from the Oyo State Police Command, the state security outfit, Operation Burst, and operatives of the Amotekun Corp among others were drafted to the area to forestall a breakdown of law and order.