2023 BMW M2 Is Now The Official Safety Car Of MotoGP Marking 25 Years Of Partnership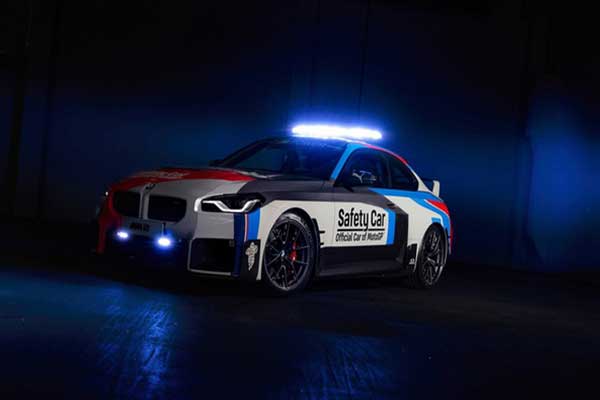 You will either love it or hate it. "2023 is our 25th season as an official MotoGP car – a long-standing partnership like this is special in international racing," said Franciscus van Meel, CEO of BMW M GmbH.
"With it, we are continuing our tradition of putting the latest high-performance automobiles from BMW M to work for safety in MotoGP." In order to serve as a new safety car in MotoGP, the BMW M2 received some additional equipment including a light bar on its roof. It also inherits a special racing livery. Inside you will find a roll bar, Recaro seats, six-point safety harnesses, a fire extinguisher, and other safety equipment necessary for its new functions.
In addition, the new M2 has been fitted with a selection of M Performance parts. There is notably an improved exhaust system, as well as carbon side mirror caps, a diffuser, a fixed rear wing… and many more. BMW did not feel the need to make any modifications to the engine. The coupe is powered by a turbocharged straight-six that develops 460 horsepower at 6,250 rpm and 550 Nm of torque.
"We are delighted to join BMW M in celebrating the 25th anniversary season of our partnership," said Carmelo Ezpeleta, CEO of Dorna Sports, the company that owns the rights to MotoGP. "With the most innovative technologies, BMW M is taking care of safety in our sport for the 25th year now and is a fixture in the MotoGP paddock with a wide range of activities."
In addition to the M2 safety car, BMW will also supply MotoGP with a variety of safety, medical and official cars. Finally, the automaker also offers a safety motorcycle, a BMW M 1000 RR. The M2 and the rest of the fleet will make their MotoGP debut at the Portuguese Grand Prix in Portimão on March 26.