2024 Acura Integra Type S Is A Honda Civic Type R Sedan On Steroids'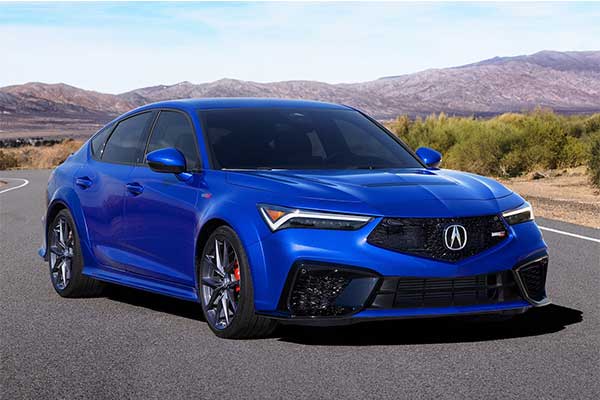 Its common knowledge that the Acura Integra and the Honda Civic are technically the same, but the flavors are different as the top-of-the-line Civic which is the Type R is a 5-door hatchback alone the Acura variant is a 4-door sedan and it has more power.
The Integra Type S boasts a 2.0-liter turbocharged four-cylinder engine that produces 320 horsepower (5 hp more than the Civic) at 6,500 rpm and 310 pound-feet of torque available between 2,600 and 4,000 revs. These numbers make the new model the most powerful Integra ever available from the automaker. The only gearbox choice is a six-speed manual with rev-matching and a limited-slip differential.
Adaptive dampers are also standard, but these are shared with the Civic Type R – albeit with Type S-specific tuning. Acura points out the 3.5-inch wider front and 1.9-inch wider rear track compared to the standard Integra and a 29mm front anti-roll bar, but all of these are shared with the Civic.
The Integra Type S has three driving modes: Comfort, Sport, and Sport+, but also carries over the Individual mode found in the Civic Type R. Acura places particular emphasis on Sport+ opening up the valves on the active exhaust system, claiming that everything is "turned up to 11 with show-stopping 'pops and bangs'" for maximum driver engagement.
Inside, the Type S offers front seats with a bit of extra bolstering that is trimmed in a leather and suede upholstery combination available in either red, black, or white. There are some features that aren't available on the Civic Type R, such as a head-up display and a 16-speaker ELS audio system. The front seats are heated, and the driver's seat is power-adjustable and has adjustable lumbar support. The Type S gives up its center rear seating position, meaning it's a four-seater. The 9.0-inch touchscreen display has wireless Apple CarPlay and Android Auto capability.
Sales start in June this year.