Cloth Vs Leather Car Seat: Which Do You Prefer?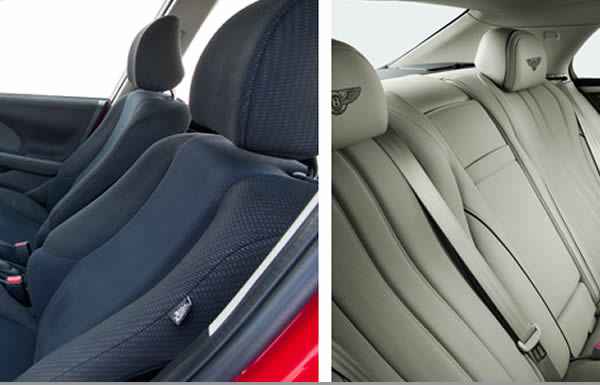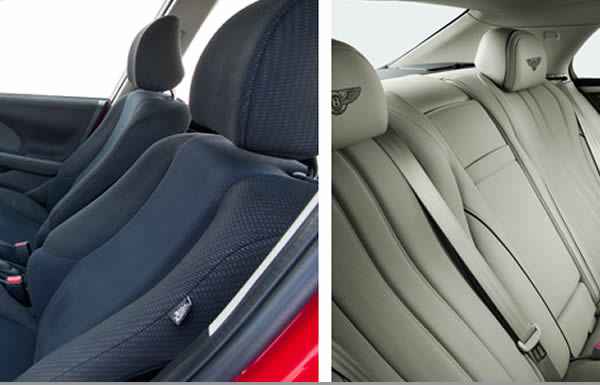 At some point in your life, you'll likely have to make the decision: Cloth or leather. What's it going to be?
On some lower-priced vehicles, such as the 2001 Toyota Corolla, you're stuck with cloth, since leather is not available even as an option. Drivers of certain automobiles, such as the 2015 Audi S8, are not even offered cloth upholstery. Their only options are leather and upgraded leather.
But for the majority of vehicles, you get to choose—actually, you have to choose—between cloth and leather. On most cars, cloth comes standard while leather is available in the premium trims.
Some car buyers consider leather seats to be nothing more than a pricey perk. But so much more goes into it. This article includes 10 rounds of decisions— 10 factors you should consider when choosing between cloth and leather. They include everything from your cold cash to the hot sun.
Round 1: Price

Adding the leather seat option to your brand new car can cost you between N250k and N1million or even more. This trend is usually extended to Tokunbo and Nigerian used cars as well.. although with smaller margins. Several prospective buyers perceive leather seats to be more luxurious and prestigious.. This leads to increased demand and a possible price hike.
Winner:  Cloth is cheaper.
Round 2: Status
Whether it's a fashionable bomber jacket, an executive office chair, or the upholstery in your car, leather gives off a "money" vibe. It makes others—or at least you—think you're rich.
It's an assumed indication of wealth and status, Leather cushions make you feel good and the car look good.
Conversely, cloth upholstery is nothing but plain and practical.
Winner: It's leather, in style.
Besides price, the biggest beef against leather is how hot it gets.
It can literally fry your bum bum in this Nigerian hot weather. The seats can get hot enough to melt the elastic in your underwear.
If you leave the windows up on a sunny afternoon, the temperature in the car can exceed 90 degrees celsius. Unlike cloth, leather—especially black leather—absorbs heat. Skin that touches a car-seat surface at 90 degrees can suffer severe burn.
When it comes to hot weather, leather isn't just the least preferred; it's dangerous!
Winner: Cloth is cool.
Round 4: Stains
Top-grain leather typically wipes clean, but the same can't be said for cloth.
Most cloth stains, such as mud and ketchup, wipe off pretty easily. But nasty liquids as ink, blood and engine oil may never fully disappear.
Winner: Leather is the clean winner.
Round 5: Smell

Cloth is porous. So the urine, vomit, body sweat, spilled drinks and ice cream soaks all the way into the cushions. The smell hardly leaves your car. However, most people enjoy breathing in the smell of leather, just like they savor the "new car" smell.
Winner: Leather has it
Round 6: Maintenance
Leather is not just high-class, it's high-maintenance. While the material is better at preventing stains, it needs to be cleaned and conditioned with particular products every few months. If you don't clean the leather, it eventually will show signs of wear due to the sweat, dust, and dirt that seep into its pores. Without conditioning, it will harden and perhaps crack.
Cloth upholstery needs some maintenance, including periodic vacuuming and cleaning but leather owners will tell you their seats need a lot more TLC.
Winner: Cloth wins.
Round 7: Comfort
Leather comfort depends much on quality. Cheap leather is hard and uncomfortable, while pricier leather can be pleasingly soft. However, with cloth, you never go wrong when it comes to comfort. You don't slide around or stick to it on hot days. In fact, it feels as good on your skin as a soft cotton T-shirt.
Winner: We feel good about cloth.
Round 8: Resale
You can recoupe some extra bucks with your leather seat as discussed in round 1. But other factors come into play. Most Tokunbo and Nigerian used car buyers simply want a reliable vehicle at a low price. Few are still willing to spend some extra Naira for your clean leather seat.
With fabric, you'll hardly make an additional penny.
Winner: The money is on leather.
Round 9: Allergies

If you have pet dander, dust or other allergies, you might want to consider leather seats. These allergens can settle into the cloth fabric, while with leather you can fully vacuum the seats or wipe them clean.
Of course, even cars with leather seats have carpeted floors, which also harbor allergens. So leather seats can only reduce allergens in the car, not prevent them.
Winner: Leather.
Round 10: Morality
Finally, some Nigerians are against shedding the blood of animals especially the vegetarians. Leather is usually gotten from cattle hide… and it's not just cattle that are sacrificed, either. Some automakers, such as BMW and Mercedes-Benz, use Nappa leather on some of their luxury vehicles. Soft and flexible, Nappa leather comes from the skins of sheep, lambs, and young goats. Thus, leather remains a moral issue.
Winner: Cloth is the guilt-free choice.
And the Winner Is?
In our 10-round contest, cloth and leather have equal points. But of course, it will always come down to a personal—and financial—decision. Leather is beautiful and makes a statement, but, is paying the extra money to endure the hot temperature extremes really worth it?
Let us hear your choice and opinion in the comment section.
Don't forget to like, rate, share and download our mobile app.
Reference: Consumer Guide