Differences Betw. Trucks Built For American And European Markets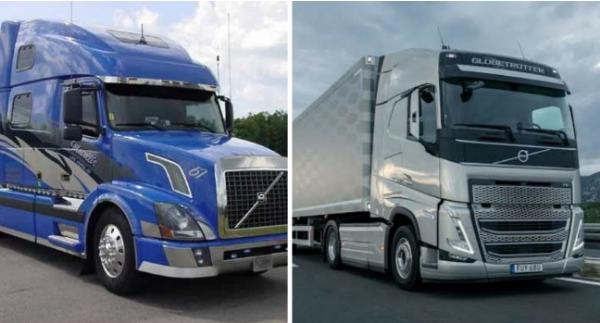 Heavy-duty trucks built for American and European markets, here are some of their differences.
Want to know the differences between American and European trucks — i mean trucks made for two of the biggest truck markets in the world? And yes, you can differentiate between the two without even stepping into them.
The most obvious difference between the two trucks is in the design of 'THE CABIN'. Due to length regulations, the length of trailer is regulated for American trucks while the length of the entire vehicle is regulated in the European ones.
So for this reasons, American trucks tends to have long-nose, where engine is found in front of the driver. The European trucks have flat-nose with engine under the Cab. And this is true for trucks made by the same company, e.g Volvo trucks, as shown in the pictures above.
The two pictures shown above shows the trucks from Swedish automaker Volvo with different designs. The first truck with long-nose, which houses the engine, is made for the American market, while the second truck with flat-nose was made for European market.
For the American truck, the Cabin, where the driver and passenger sits, is found behind the engine. The European trucks, on the other hand, houses its engine underneath the Cabin.
In addition to the obvious exterior designs, the two also features different interior designs. The fact that the American truck features roomy interior with TVs, sleepers (Beds), makes it a bestseller.
Again, due to the design, the driver is likely to be protected in the event of an accident, unlike the European trucks where the driver may feel the impact more.
Unlike the long-nosed American rigs, the flat-nose design makes the European trucks easier to park on narrow roads and congested areas, especially in Lagos.