Sunday Okpere – The story of a Nigerian man who built a car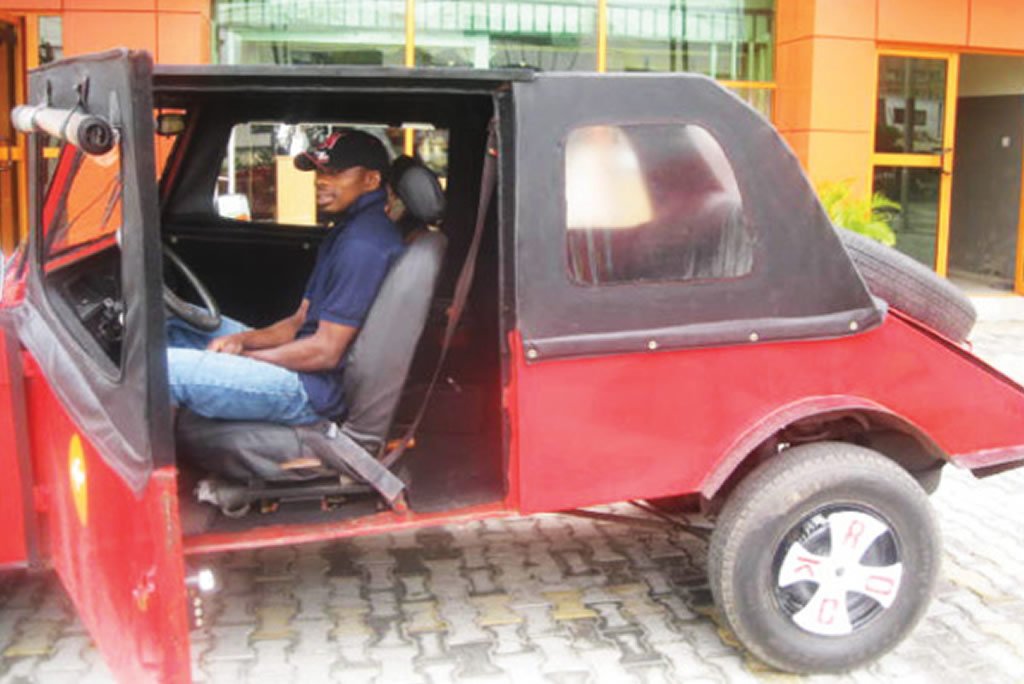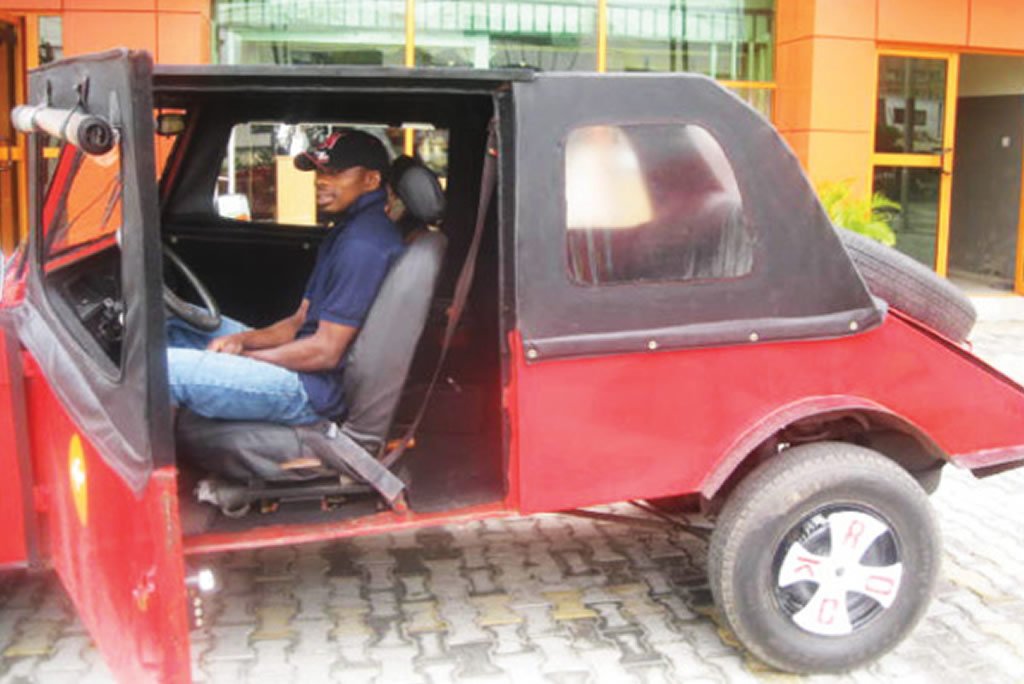 When Sunday Okpere was seven, he made toy cars using empty milk cans, short ropes and small twigs, which he happily dragged around the streets in his hometown in Edo State; while at the same time nursing the dream of building a real car.
Today, Mr Okpere drives a red and black car, which he named 'Rock Auto,' around the streets of Lagos; a car which he designed and coupled from start to finish with locally-sourced materials.
Despite the death of his father and the attendant financial and emotional setback to the family, Mr Okpere said "making a car" was something he knew he wanted to do at a young age when he discovered his creative spirit.
"When I was a young boy, I used to make car with cans," said Mr Okpere, 40, who relocated with his family from Lagos to Edo State in the late 70's.
"All my friends in my neighbourhood will gather around me and say I should make for them. Anything I was interested in, I tried to make on my own."
"In secondary school, my teacher in school asked me what I wanted to be in future and I said I want to be an engineer,"
Return to Lagos
Armed with his dream, Mr Okpere returned to Lagos in 1990. He recalled how difficult it was then, struggling to help his mother and schooling. He could not further his education after completing secondary school due to financial difficulties, but this did not deter his dream. His interest in cars led him to an automobile workshop in Oyadiran Estate, Sabo, Yaba, where he trained for seven years as an auto mechanic.
He garnered so much skills there that his employer didn't want him to leave.
"My boss didn't want me to leave him. He kept me for some time and was paying me but later I had to leave to find my own life," he said.He worked for a while with a petroleum company in Ikoyi where he was responsible for maintaining all the cars used by the company. While there, he got some experience working on ships, as his Italian boss taught him a couple of things, he said.
Today, he works with Tag 4 Armour Nigeria, a company that sells and services armoured vehicles for police, banks and individuals. For Mr Okpere, every work experience he's had was a foundation block for achieving his dream.
In July 2010, he started putting pieces of his car together, a journey which took him six months to complete.
"I did a lot of research on the Internet before I came up with the engine design and parts that I used. I had to work hard.
"I saved my salary for many months. I think a lot, I don't drink; I don't go to beer parlour. You can't see me there. How can I achieve my own dreams? That was my focus then. I said to myself, I want to build a car, how can I go about it?"
Copying the master
According to Mr Okpere, many people mocked him when he started building his car. Some called him a mad man, many laughed at him.But the story of Henry Ford was one thing that greatly inspired him.
"When I read the story of Henry Ford, I saw that his lifestyle was similar to my own. At the age of 12 years, he started helping his father and going for apprenticeship on how to design engine models. I thought that if he could do it, I can do it."
The process of building the car came with a lot of challenges that threatened to discourage him at certain points, he said, but he kept his ground.
"I made a lot of mistakes," he recalled. "I spent a lot of time and money on the windscreen.
"The first one I got didn't work, it got damaged. The second one, the same thing. Until I got the third one, then I succeeded. You have to keep trying. It's not when it doesn't work then you think you have failed. You must try again."
Another trying moment came when he wanted to test-drive the car. This he had to do alone. After driving it around for a while, he wanted to see the performance at a 'C' bend on Bourdillon Road, Ikoyi, a place he said accidents occur quite often. "I wanted to see the balance of the car so I entered the bend with speed, thinking it was going to shift, but the car was fine.
"Then I started laughing out loud; people were just looking at me. I gave God the glory immediately."
Today, Mr Okpere is so proud of his car, a V6 four stroke engine, that he would be happy to let any engineer test-drive it. For him, safety was his priority when designing the car which is why he built it with strong iron pillars which cannot compress in such a way that it would injure the occupants in case of any accident.
He is grateful to God who has been with him all the way and encourages young people to pursue their dreams regardless of where they come from.
"I grew up on the street. I was a street boy. God picked me out of the street and he crowned me with his glory."
Credit: Geolabious