Is The Lagos State Public Works Corporation (LSPWC) Failing In Its Responsibility?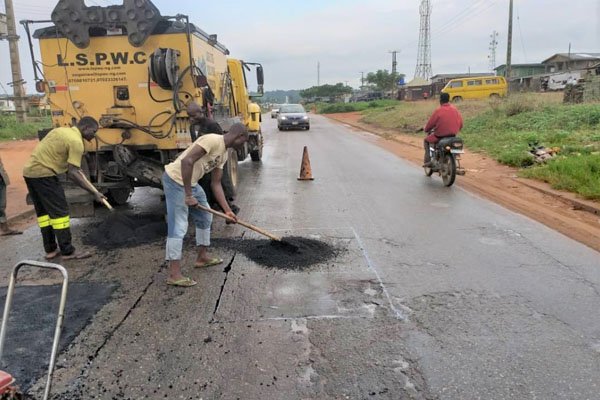 The Lagos State Public Works Corporation (LSPWC) was set up in the 1980. Then, it was called the Lagos State Works Management Board.
Principally, the agency was formed with the aim of handling public works with more aggression.
The agency handled construction of roads, public buildings and other public Works with emphasis on Direct Labour approach.
Some public buildings constructed by the agency include the Old Governor's Office, Alausa, Onikan Stadium etc.
Notably, the agency was particularly most effectictive during the administration of Col. Buba Marwa, when he became the Administrator of Lagos state in 1996.
Marwa then restructures and renamed the agency Direct Labour Agency. The focus being the maintenance and rehabilitation of roads within the State.
During that period, the Agency tackled this duty headlong and recorded a lot of achievements on construction/rehabilitation of roads like Ikorodu Road (Owode Onirin to Ikorodu Roundabout), AIT Road, Agbado-Ijaiye Road, Iju-Ishaga-Oke Aro Road, among others.
With the return to democracy in 1999, the administration of Asiwaju Bola Ahmed Tinubu again restructured the agency, and this time, renamed it renamed Public Works Bureau.
The vision of the agency was to be a "To be a formidable name in Road Rehabilitation and Construction" .
This is also highlighted in the agency's mission Statement which is:
"To be primarily responsible for the Rehabilitation and Construction of all roads, such that Roads remain motorable all year round by Responding promptly to all situations. This is to be accomplished at minimal cost, while not compromising quality and efficiency".
In order to make the agency more resourceful and independent, an Asphalt Plant was built at the disposal of the Corporation. This has helped in their operation in no small measure.
The Asphalt Plant was manufactured by MARINI SPA of Italy and was installed at 300 ton/hour Capacity in November 1997.
Tragically, today,  despite the incredible resources at the disposable of the LSPWC, Lagos state has become a state bedeviled by scandalous amount of potholes and ditches on it roads.
So, is the Lagos State Public Works Corporation (LSPWC)  not terrifically under-performing  in its primary responsibility of rehabilitating and constructing roads and keeping them in motorable condition?