Nigerian Airline, Air Peace, Decorates First Female Captain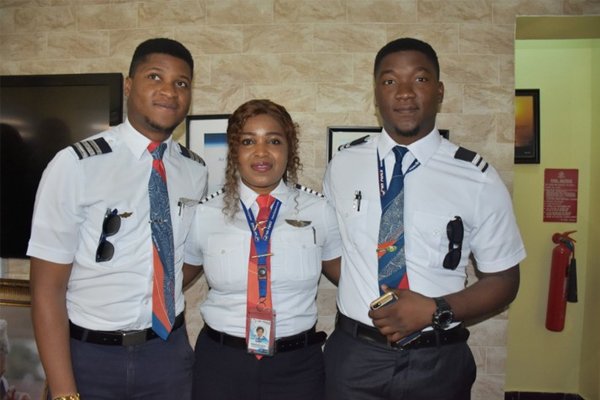 Nigeria's leading airline, Air Peace on Monday matched its pledge to always ensure gender equality with action, giving one of its female pilots, Sinmisola Ajibola command of its cockpit.
Sinmisola, who joined Air Peace in February 2017 as a Senior First Officer (SFO), made history as the airline's first female captain. She is from a family of pilots – father and four brothers, three of whom are with Air Peace.
Presenting the new captain to the Chairman/Chief Executive Officer of Air Peace, Mr. Allen Onyema for decoration, the Chief Pilot, Capt. Victor Egonu said he predicted Sinmisola's elevation on the first flight the latter did with him.
Decorating Sinmisola with her captain epaulletes at Air Peace Corporate Headquarters in Lagos in company with the airline's Chief Operating Officer, Mrs. Oluwatoyin Olajide, Director of Flight Operations, Capt. Wellington Eyimina and Chief Pilot, Capt. Victor Egonu, Onyema said he was proud of her achievement.
He urged the new captain to sustain her outstanding performance in and out of the cockpit.
He praised the airline's pilots and their other Nigerian colleagues for displaying excellence in the cockpit as well as standing tall among their counterparts across the globe.
Onyema insisted that Air Peace caused a revolution in the nation's aviation industry in the area of pilots' benefits.
Air Peace currently has eight female pilots in its employ.
Women also occupy most of the top positions in Air Peace – from the Vice Chairman, Mrs. Alice Onyema to the Chief Operating Officer, Mrs. Oluwatoyin Olajide, Chief of Administration and Finance, Mrs. Ejiro Eghagha, Head of Maintenance, Mrs. Maureen Udale-Ameh, Human Resources Manager, Mrs. Olubunmi Akano, Cabin Services Manager, Florence Opia, Airport Coordinator, Mrs. Clementina Ukonze, Head of Legal and Corporate Services, Paulynne Ikem, Planning and Production Manager, Mrs. Melodie Zotachi, Head of Procurement, Mrs. Obiageri Akano, Head of Monitoring and Compliance, Joy Imeli, Business Development Manager, Tracy Osakwe, Revenue Manager, Ihuoma Ukairo, acting Information and Technology Manager, Chidinma Anumaka and Training Coordinator, Mrs. Eira Gafar.
Women also run four of the carrier's stations. While Kachollom Nyiam-Zang is in charge of Air Peace's Abuja station, Chiaka Nwosunjoku, Shola Ogunwuyi and Aanuoluwapo Olatunbi run the airline's Port Harcourt, Accra and Banjul offices respectively.