Production Of Castrol Automotive Engine Oil Commences In Nigeria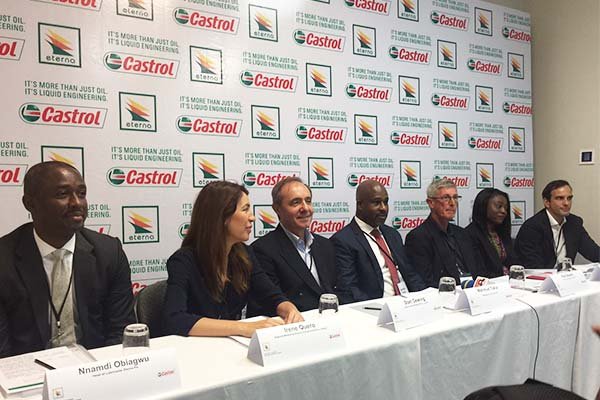 Following on from its 2015 distribution agreement with Castrol, Eterna PLC has been granted the license to blend and distribute Castrol Automobile and Industrial lubricants at its Sagamu, Ogun State facility.
Eterna's portfolio of Castrol Automobile lubricants comprises of four products selected to serve a wide spectrum of Nigerian consumers. They are: Castrol GTX Essential, Castrol MAGNATEC, Castrol EDGE and an entry-level engine oil Castrol Motor Oil.
In August 2017, the first Castrol product officially produced in Nigeria – Castrol GTX Essential – came off the production line at Eterna's Sagamu blending plant. This new Castrol GTX variant was developed in response to specific market requirements for Nigeria and is positioned as an affordable brand that meets manufacturer engine specifications.
Mahmud Tukur, Eterna Managing Director, said: "We, at Eterna plc, are extremely proud to be the exclusive and authorized distributor of Castrol Lubricants. A key milestone is the production of Castrol GTX Essential at our plant. This completes the robust engine lubricant portfolio suitable for use across Nigeria's vast range of cars both old and new, and to suit our variable fuel and road conditions."
Eterna's official market entry for Castrol will commence with a launch on Friday, 6 October 2017. The marketing team have started hosting a series of mechanic roadshows targeted at local mechanics and designed to familiarize them with the range of Castrol products. Additionally, Eterna service stations and Castrol-branded kiosks will be instrumental in reinforcing the partnership.
See Related Post Mercedes Benz Is The Most Googled Car Brand In Nigeria. See That Of All Other Countries (Map)
About Eterna PLC
Eterna PLC is the exclusive and authorized distributor of Castrol automotive and marine lubricants in Nigeria. A wide range of lubricants are available through the company, with Eterna currently licensed to manufacture and blend certain Castrol Lubricants at its Blending Plant located at Sagamu, Ogun State.
More about Castrol
Castrol, one of the world's leading lubricant brands, has a proud heritage of innovation and fueling the dreams of pioneers. Their passion for performance, combined with a philosophy of working in partnership with manufacturers, has enabled Castrol to develop oils that have been at the heart of numerous technological feats on land, air, sea and space for over 100 years. Today, the company's vast portfolio of high performance lubricants, including Castrol EDGE, Castrol MAGNATEC and Castrol Power1, are available in almost 140 countries worldwide.
See Related Post Mercedes Benz Is The Most Googled Car Brand In Nigeria. See That Of All Other Countries (Map)