This Mercedes E-Class All-Terrain 4×4 Wagon Will Take You To Your Village In Style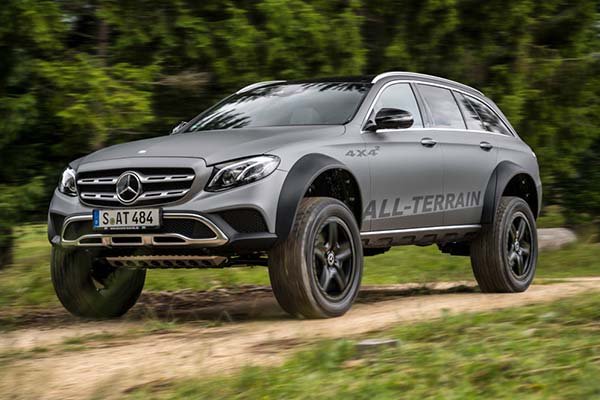 Is your hometown "this way to"? and you've been having issues visiting your folks due to bad roads. Mercedes Benz is imagining a solution for you with absolute luxury and impeccable performance.
It's the Mercedes E-Class All-Terrain 4×4 Wagon. Engineer Jürgen Eberle realised the G-Wagon couldn't give you all the fun you deserve so he added a set of portal axles to a wagon to create the E-Class All-Terrain 4×4.
It comes with wide fenders that were 3D printed by the rapid prototyping department.. and it gets 420 mm of ground clearance which is more than double that of the standard E Class. The wheels and 285/50R20 tyres were borrowed from the R-Class.
The featured model gets the 3.0-liter twin-turbo V6 from the E400 wagon which sends 333 horsepower to the four wheels through the 9G-Tronic nine-speed automatic.
AutoJosh cannot give you the price at the moment as this is still an engineering experiment. However, if you are loaded with some cash, you can contact Mercedes Benz for a special delivery for Onwa December.
See Related Post N574m 2018 Mercedes S600 Pullman Maybach Guard. A Palace On Wheels (Photos)
See Related Post N574m 2018 Mercedes S600 Pullman Maybach Guard. A Palace On Wheels (Photos)
Also See: Buy and sell cars faster on Carmart NG