Transporter 3 : Audi A8 Drove On Two Wheels Between Two Trucks During A Chase By Mercedes E-Class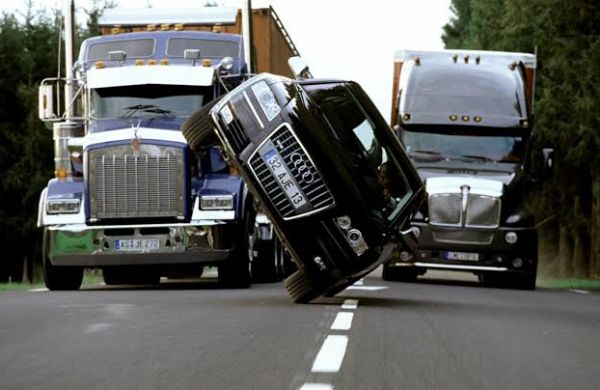 Audi A8 drove on two wheels between two trucks to escape from hitmen driving Mercedes-Benz E-Class in action film, Transporter 3.
Frank Martin, played by English actor Jason Statham, was behind the wheels of the high-performance Audi A8 luxury sedan.
In Transporter 3, Frank was known for his incredible driving skills, which matches the performance of his black Audi A8 luxury car.
The Transporter 3, the third and final installment in the original trilogy of the Transporter franchise released in 2008 features one of the best car chasing scenes in the industry, thanks to the amazing driving skills executed by Special Forces operative turned private chauffeur, Frank Martin.
In the movie, Frank Martin, played by English actor Jason Statham, delivered several special "packages". In addition to his martial arts fighting skill, Frank also has incredible driving ability, with the latter matching the high-performance of his black armoured Audi A8 luxury limousine.
Video
After Frank and Johnson agree to call it even, Johnson ordered Frank to transport politician's daughter Valentina (Natalya Rudakova) to Bucharest. On their way to Bucharest, Frank made a brief stop at the filing station, where a group of hitmen show up in their black Mercedes-Benz E-Class.
Then a chase ensues, which saw driver-for-hire Frank skilfully manipulate his armoured Audi A8 on two wheels to squeeze between two trucks while being chased by the black Mercedes-Benz E-Class driven by Tomilenko's agents.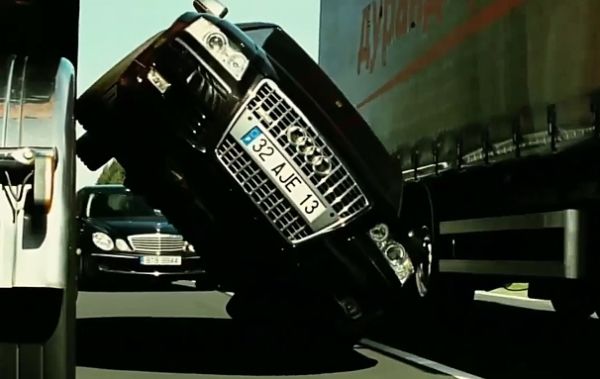 According to the stunt coordinator, Michel Julienne, this special Audi was welded to the side of one of the trucks to accomplish the tricky stunt of having it tilt up on two wheels.
Behind the wheels of the Audi A8 is Julienne's son, who was pulled along the side of the truck by a small engine inside the truck. While the car's powerful four-wheel drive had to be hobbled to two-wheel drive, the team said that the tyres that took the most abuse.
Julienne says :
"We had to change the tires very often"
"We'd get up to speeds of 60 to 70 kilometers an hour [about 40 mph], but then we'd have to change the tires every kilometer or so."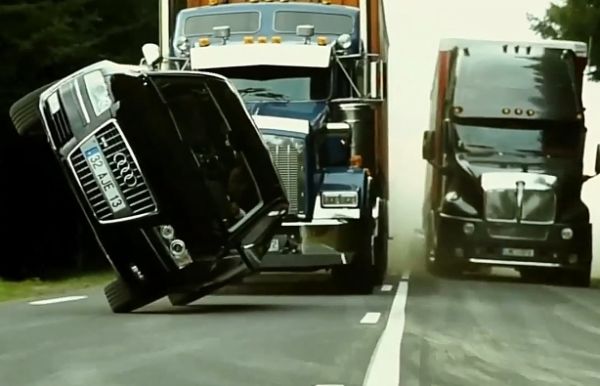 The other truck, driven by Julienne's brother, was not attached but was under instructions to drive as close as possible to the car.
Julienne, who had no fears for his son's safety, added that :
"It came very close but did not touch,"
"My brother was driving the truck."