Watch A Magna Tweaked Tesla Model S With 3 Motors Drift On Snow And Wet Pavement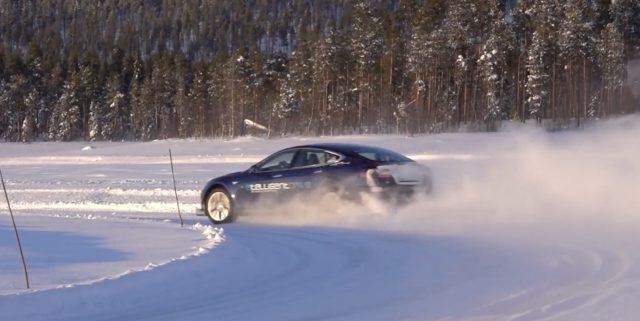 Tesla might be one of the most innovative car manufacturers around, but it isn't moving fast enough for some people.
Earlier this year, magna powertrain built a Tesla Model S prototype with 3 electric motors,one more than a standard Tesla Model S or X 'D' model.
Now they plan to bring the experimental Model S to CES technology show early next year to showcase their latest electric motor technology.In order to give a glimpse of the capabilities, they released the video below of the Model S prototype drifting on wet pavement and snow
This new generation of electric drive units is called etelligentDrive system and the company says that they managed to packaged the drive units with inverters small enough to fit in roughly the same space as Tesla's dual motor system.
In the prototype, each e-drive motor (one motor for each rear wheel and one for the two front wheels) has a power output of 140-kilowatt, adding up to an overall peak performance of 420-kilowatt, and the electric motors are combined with a single-speed reduction-gear transmission.
They claim that it enables them to quickly correct the torque in each rear wheel in order to improve handling and safety.Magna is trying to expand its electric powertrain products after having some early success developing powertrains for vehicles, like the Ford Focus EV and the Volvo V60 PHEV.
Magna is aiming to continue to deliver cutting-edge products to the market that match the progression of internal combustion engines up to full electric vehicles,and that in next few years,there will be several different variations of powertrain architectures aimed at numerous ways to achieve CO2 savings.
Also See: Buy and sell cars faster on Carmart NG