Watch An Angry Tiger Bite The Bumper, Pull A Broken Down Mahindra SUV Filled With Tourists
Watch an angry bengal tiger bite the rear bumper, pull a broken down Mahindra Xylo SUV full of tourists.
The tourists became stranded on the road after the SUV's battery went dead during the tour.
Tourists on a visit to Bannerghatta National Park, Bengaluru, recently had a scary encounter with ambush of Bengal Tigers after the vehicle they were traveling in broke down at the Indian national park.
The National park offers a guided bus tour all along the 6 km safari roads, which is specially made for safarists and foreign tourist gatherers.
According to reports, the tourists in the Mahindra Xylo SUV became stranded on the road after the vehicle's battery went dead during the tour.
To make matters worse, one of ambush of Bengal tigers, who came around the broken down vehicle, started chewing the bumper.
Footage of the incident was shared by Indian billionaire businessman, and the chairman of Mahindra Group on his Twitter account.
In the footage, a Bengal tiger can be seen pulling the vehicle with kerb weight of 1,875 kgs (excluding the weight six occupants sitting in the Xylo), showing how strong the 'largest cat' can be.
Anand Mahindra tweeted :
"Well, that car is a Xylo, so I guess I'm not surprised he's chewing on it.
He probably shares my view that Mahindra cars are Deeeliciousss. 😊"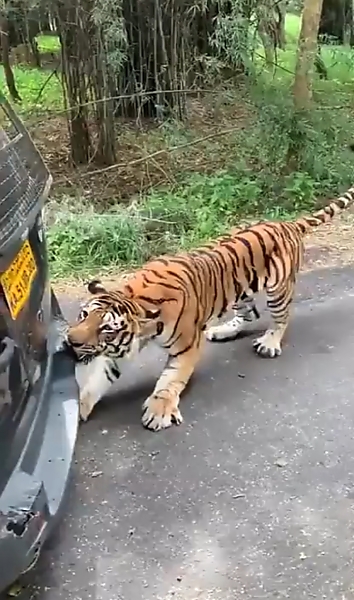 Help finally came as the broken down Mahindra Xylo SUV was later towed safe location by the rescue team of Bannerghatta National Park.
Since 2011, nearly 200 people have been killed and more than 2,000 others wounded in man-animal conflict in India, a country where it is a crime to kill big cats, such as tigers and leopards.