Watch BMW's Car-To-Car Refueling During M5 8-Hrs Drift Setting 2 New Guinness World Records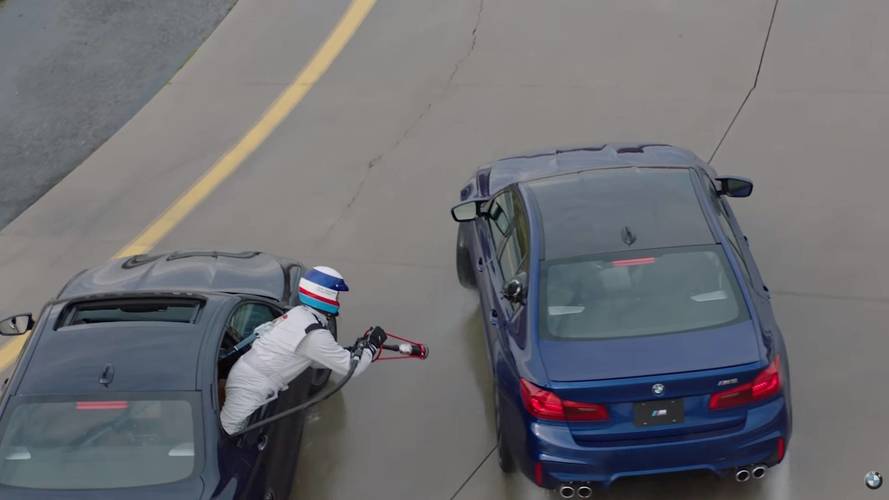 Today,BMW released a video recorded during its record breaking 8 hour M5 drifts.Its driving instructor Johan Schwartz set the original longest drift record back in 2013 in an F10 M5, circling a skidpad for the equivalent of 51.3 miles. But Toyota sent a GT86 spinning for nearly 90 miles in 2014, eventually topping its own record with the lightly-modified 86 last year.
So in December 11 2017, in an attempt to reclaim the title, Schwartz drifted an all-new, F90-generation BMW M5 sedan 232.5 miles around a skid pad at the BMW Performance Center. It took eight hours of continuous drifting to complete, which is almost difficult to comprehend. Just imagine holding a drift in a 600 hp super sedan for the length of your typical work day,
Even more, BMW also broke another world record that day for the world's longest "Twin-Vehicle Drift" (water-assisted), with two BMW M5s drifting 49.25 miles over the course of an hour. For this, both Schwartz and BMW Performance Center Chief Driving Instructor Matt Mullins drifted new M5s around the skid pad together.
Normally,Guinness World Record rules allow drivers to stop and refuel,but BMW rightly decided that would be boring, unsporting, and not nearly dangerous enough. It also didn't want to modify the new model.
So to refuel during longest sustained drift and set the bar as high as possible, BMW used a spare M5 carrying an extra fuel cell capable of pumping 18 gallons in 50 seconds, a specially-designed hose attachment, and a daring stuntman to lean out the car's back window and physically connect it to the world record attempt car mid-drift.
The car-to-car refueling had to be done 5 separate times throughout the course of the 8-hour, 232.5-mile drift.