Win N500k In The Mitsubishi Pajero Sport Challenge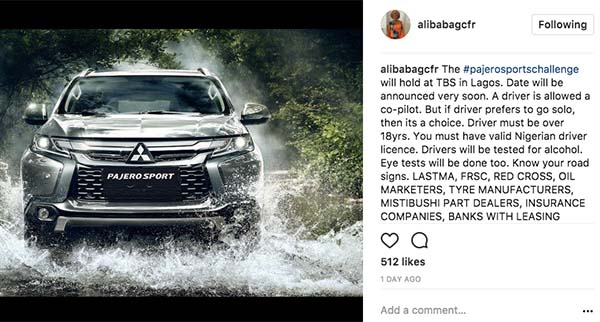 How good are you at driving? Can you win yourself N500,000 in a driving competition? It will involve, reversing, parking, braking, speed, maneuvering, obstacles, tasks and skills test. If you are game then you are in for some Motor sports with the new Mistubishi Pajero Sport Competition. It's a winner takes all competition. Are you up to some Motorsports?
The Pajero Sports Challenge will hold at TBS in Lagos. Date will be announced very soon. A driver is allowed a co-pilot. But if driver prefers to go solo, then its a choice. Driver must be over 18yrs. You must have valid Nigerian driver licence. Drivers will be tested for alcohol. Eye tests will be done too. Know your road signs.
To enter the #mistubishipajerosports #pajerosportschallenge, post a picture of you in a split picture showing any pix of a 2017 #mistubishipajerosports on Instagram. (See example) Ask for your entry to be nominated by your followers and friends. 10 of the entries with the highest nominations will get to take part in the #pajerosportschallenge.
See Alibabagcfr's instagram page for more information.
… Absolutely No drunk driving at the competition. More rules will be revealed in the days ahead.
See Related Post Amazing Photos From The 2017 Sagamu Rally Car Race In Nigeria
Credit: AlibabaGCFR