20 Celebrities That Made Major Car News In 2019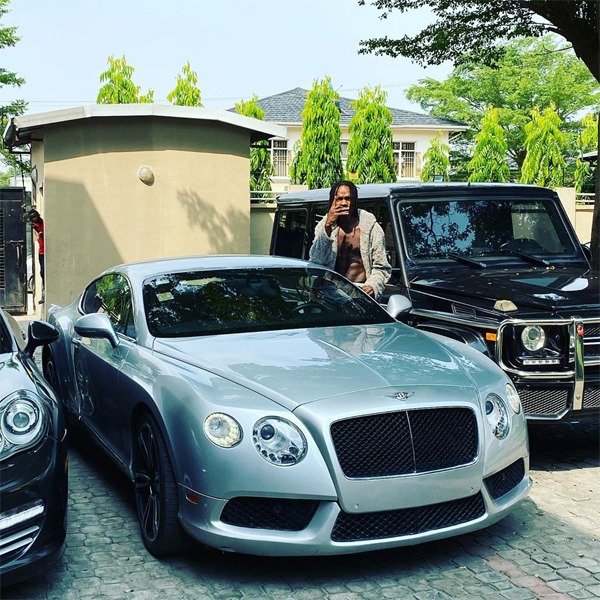 20 Celebrities That Made Major Car News In 2019
2019 was a notable year for a good number of celebrities and public figures for numerous automobile reasons.
For some of them, it was the year that they acquired their dream automobiles. Some of them used the acquisition of cars as an opportunity to showoff. Whatever their motives, their acquisition of the cars drew enormous public attention – solicited and unsolicited.
In this article, Autojosh.com highlights some celebrities, public figures, social media personalities and a corporation that made major automobile news in the year that just passed.
DJ Cuppy
The year had barely kicked off when popular DJ and daughter of business mogul, Femi Otedola, Florence Ifeoluwa Otedola, professionally known as DJ Cuppy, started making car news.
In late January, Cuppy took delivery of a specially-built 2019 Rolls Royce Phantom 8. She took to her Instagram to announce that the wait for the car is over after 13 good months.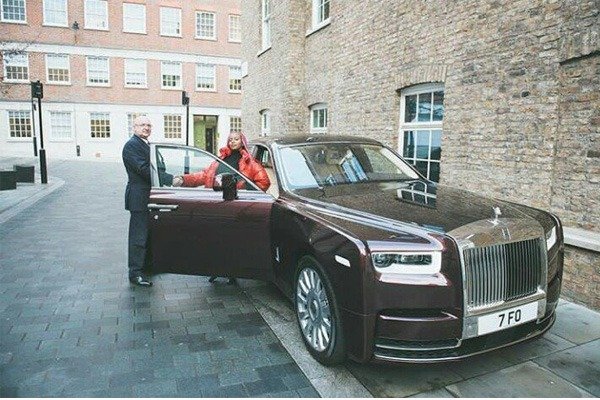 Barely months after she acquired the Rolls Royce, she added a Ferrari to her auto collection.
She made the announcement of the new Ferarri on her Instagram account. She also posted a photo of the Ferrari that has a customized number plate bearing "Cuppy".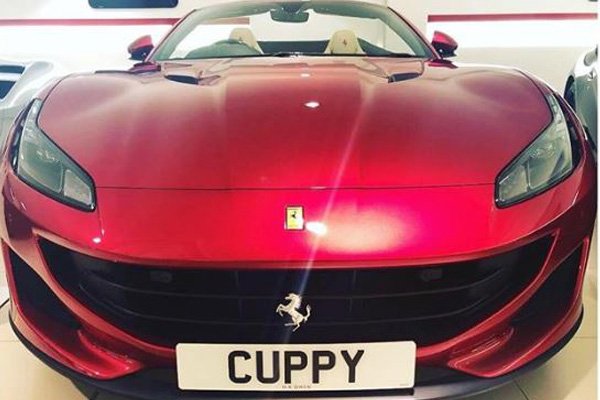 Also, in early December, the same year, she made car news. This happened when she bought her super-wealthy father a luxurious Christmas gift. She got him a brand new N300million Rolls-Royce Phantom VIII.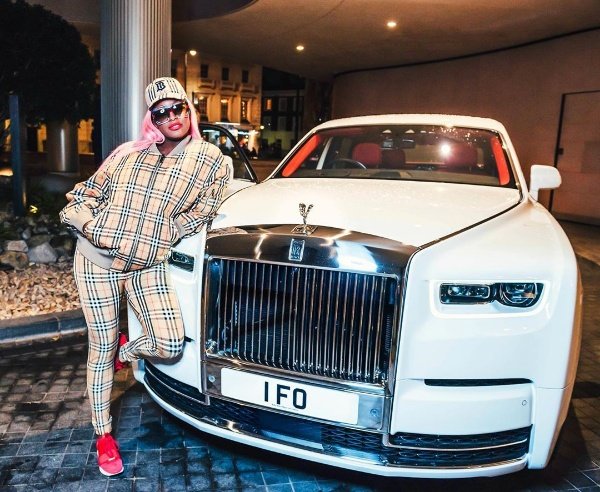 The DJ shared a picture of herself posing in front of the new luxury sedan on Instagram. She captioned it:
"Just picked up a Christmas present for @FemiOtedola do you think he'll like it? 🎅🏾🎁💨"
Zlatan Ibile
One of Nigeria's biggest music sensation of 2019 is Omoniyi Temidayo Raphael known professionally as Zlatan Ibile. He, too, made a  number of automobile news in 2019.
In March, the singer, songwriter and dancer, acquired two (2) cars – a Hyundai Elantra and a Mercedes Benz SUV.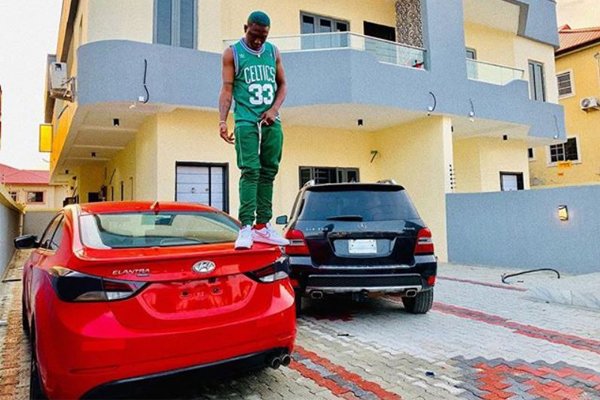 Later in May, the graduate of Business Administration from the Mashood Abiola Polytechnic got himself another car – a Mercedes Benz CLA  Class.
In late August, Zlatan added a luxury Bentley Bentayga SUV to his growing fleet of cars. The new luxury whip is estimated to have cost him $200,000. In Naira terms, that is about N120m, after shipping and clearing in Nigeria.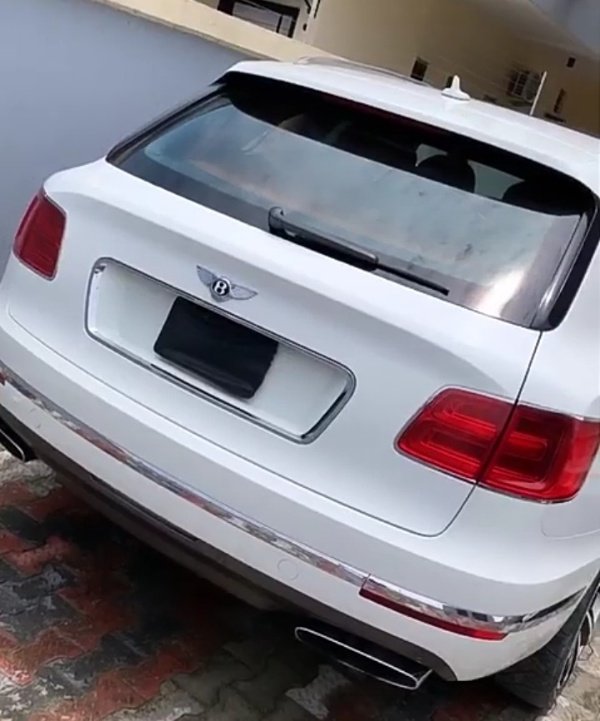 Zlatan turned 25 on Thursday the 19th of December 2019. As a birthday gift to himself, the Zanku dance originator didn't hesitate to make the day a memorable one by buying himself a white Land Rover Range Rover.
This came after he shut down his maiden concert, Zlatan Live held at the Balmoral Convention Center in Victoria Island, Lagos.
K Cee
In mid-March, singer and songwriter Kingsley Chinweike Okonkwo, better known as KCee took delivery of a new Toyota Land Cruiser SUV.
He took to his Instagram page to share photos of himself posing with the new SUV.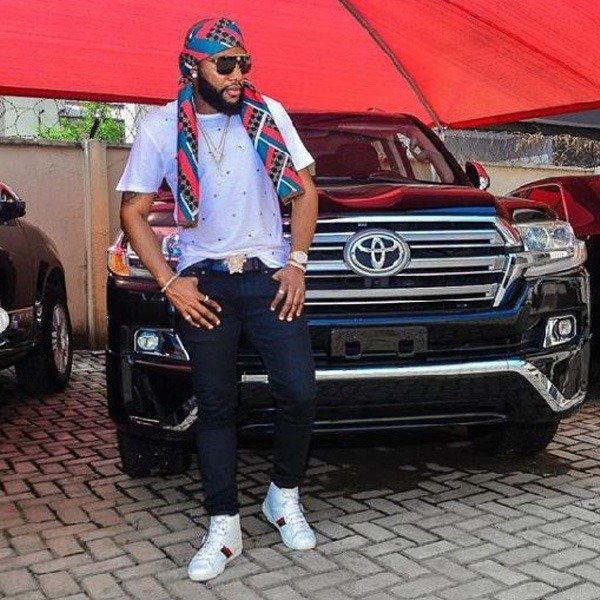 KCee was formerly a member of the Afro-Hip Hop duo group called Kc Presh. He currently has a record deal with Five Star Music.
Mayorkun
Adewale Mayowa Emmanuel, professionally known as Mayorkun, is a singer, songwriter and pianist.
In March, Mayorkun acquired a N35 million Mercedes Benz CLA250 AMG. He made this known to the public using his verified Instagram account. He captioned the post:
About to be 25, sitting on 35 million! I might as well spoil myself a lil! Too grateful! Shouts to @606autos for doing good business! 🙏🏾😝 #TMOL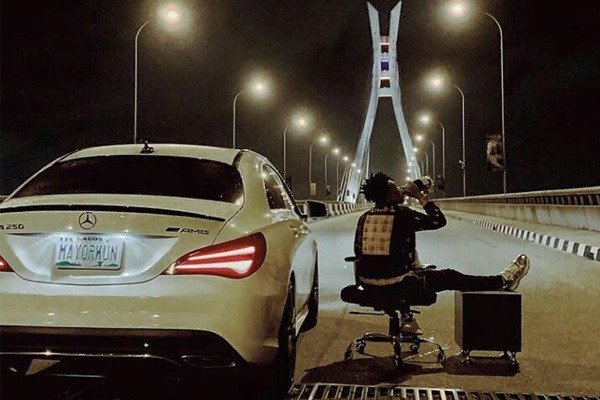 Mayorkun was discovered on Twitter by Davido when he posted a cover of one of Davido's "The Money" featuring Olamide. He was later signed to Davido's DMW in 2016 and released his first single called "Eleko".
Bobrisky
Okuneye Idris, known famously as Bobrisky, made some car-related headlines in 2019. In late March, she gifted himself a new Mercedes Benz CLA250. The cross-dresser made the announcement of the arrival of the new whip on Instagram.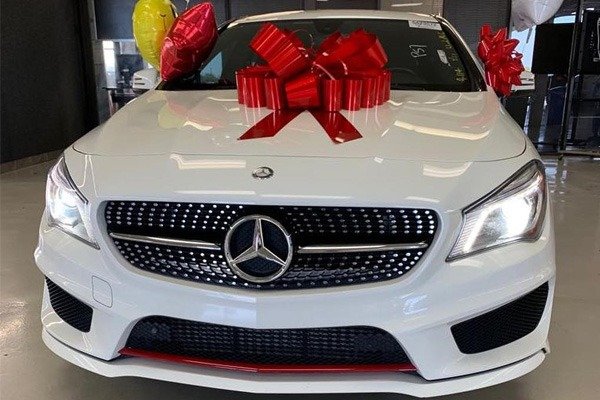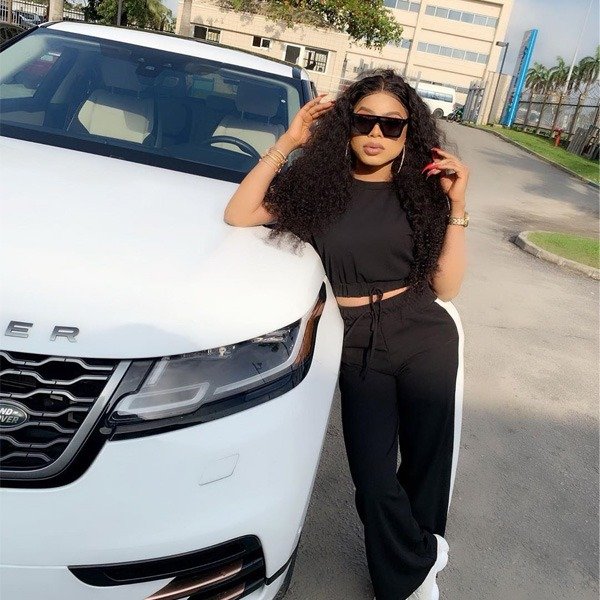 Later in September, he bought herself a new Range Rover Velar. The SUV was acquired after his planned birthday party was disrupted by the police. According to the social media influencer, the car was acquired at the cost of about N30million.
Nkechi Blessing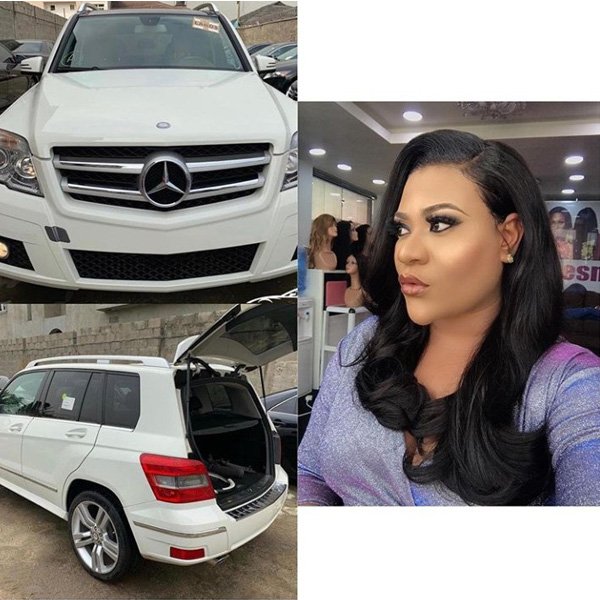 July 2019, actress Nkechi Blessing announced that she had bought a new Mercedes Benz. She also posted the photo of the car on her Instagram account.
''One year later God said it was time🏻Thank You lord again🏻…And to all the Reputable Brands that found me Worthy of repping Their Brand, God bless you🏻… @datboy_autos It was Nice Doing Business With you Boss🏻…And to all my Wonderful Colleagues Sincerely from my heart I appreciate the love️..#unstoppable #ogoagbaye''
However, she was later accused by someone online that she was not the owner of the car she published online.
Nkechi Blessed later posted the photo of the actual one she that she bought.
Hushpuppi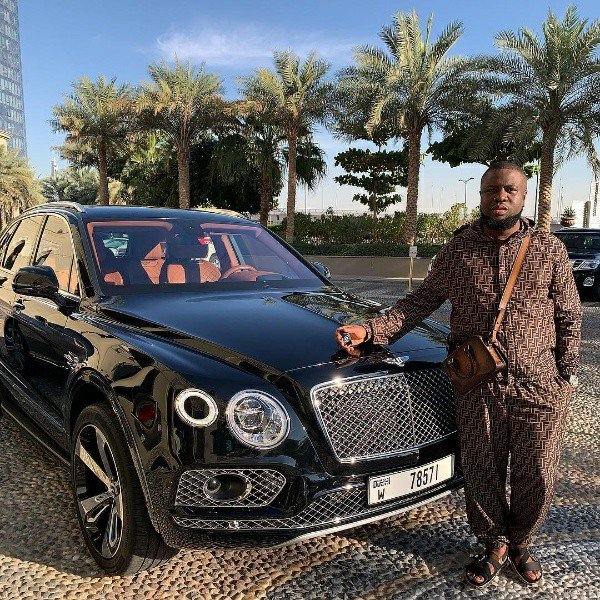 Social media sensation Ray Hushpuppi, whose real name is Raymond Igbalodely, is best known for an ostentatious and showy lifestyle on social media. One of his preoccupations on social media is showcasing his car collection.
For valentine, he acquired for himself a Bentley Bentayga. Days afterwards, he acquired a Rolls Royce Wraith Black Badge.
Later in May, Hushpuppi announced that he has gotten himself a Mercedes Maybach S650. In his typical nature, he made this known to his followers on a post he made on Instagram.
In mid-August, he posted a picture of a limited edition Ferrari 458 Italia on his Instagram where he referred to the car as his new baby. According to him, only ten of that Ferrari will be produced and he owns one of them.
Dbanj
In June, star performer Dapo Oyebanjo, famously known as Dbanj,  joined the elite group of Rolls Royce owners in Nigeria.
Dbanj got himself a Rolls Royce Wraith to mark his 39th years birthday.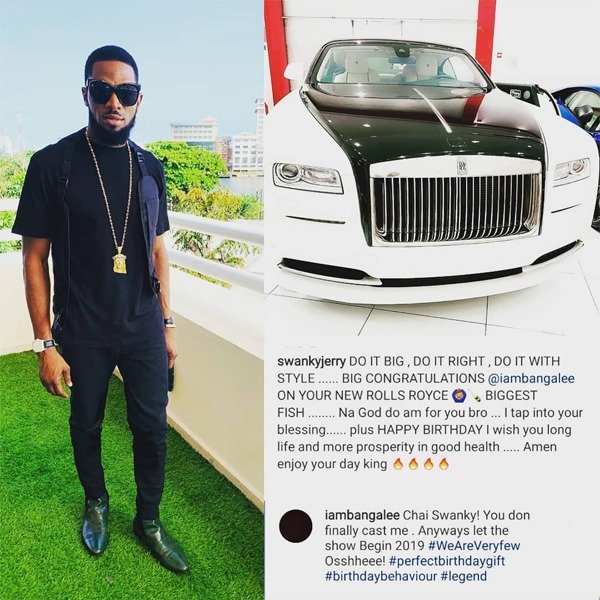 His friend and stylist, Jeremiah Ogbodo aka Swanky Jerry, announced the acquisition of the car.
In an Instagram post, Swanky Jerry congratulated Dbanj for his latest automobile acquisition.
Swanky Jerry uploaded the double-tone coloured Rolls Royce Wraith using his verified official Instagram page.
The Makun Brothers (AY and Yomi Casual)
In 2019, showbiz impresario, Ayo Makun, better known as "AY" and his Fashion designer sibling, Omoniyi Makun, better known by the brand name "Yomi Casual", demonstrated their love for their spouses by giving them automobile gifts.
In July, comedian AY took delivery of two vehicles that included a new Lexus LX570. The SUV was acquired as a wedding anniversary gift for his wife.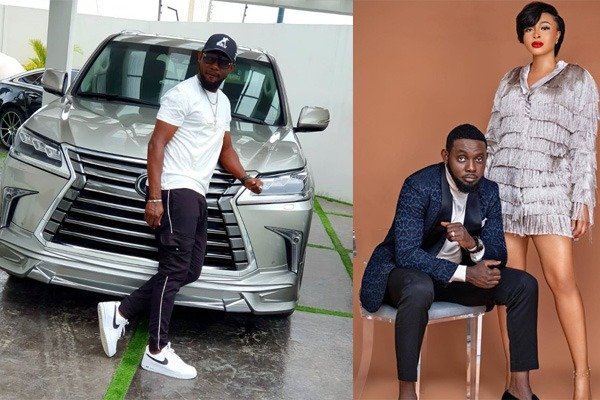 His brother, Yomi Casual, helped him relay the announcement to the public using his official Instagram page.
On May 20, just like his elder brother, Yomi Casual got his wife a birthday present of a new Mercedes Benz GL350.
The excited wife took to her Instagram account to announce the gift to her followers.
Regina Daniels
Unarguably, Regina Daniels was one of the most talked-about celebrities in 2019. She made news for diverse reasons. Some of them include the acquisition of expensive automobiles.
For instance, the constantly repeat 19-year-old set the Internet agog in March, when she bought a Mercedes Benz C-Class C300.
Later in April, she announced her ownership of a G-Wagon Brabus. She shared the pictures of the vehicle on her Instagram page with the caption: "My new baby ❤️❤️❤️❤️❤️❤️❤️❤️❤️
In May 2019, she acquired a Mercedes Benz GL450 SUV. The car bore a customized number plate 4EVA16.
She acquired all the Mercedes Benz cars within a space of four months.
Mc Galaxy
In October, popular singer, Innocent Udeme Udofot, famously known as MC Galaxy, acquired for himself a Mercedes-Benz AMG GLE 63 s Coupe.
Laura Ikeji, who is a close friend to the musician, made the announcement on Instagram. The vehicle has a customized registration number "MCG-04", has an estimated starting price tag of N45 million.
Earlier in June, MC Galaxy also made news when he bought his producer, T-Spice, a new Benz.
Presenting the car, MC Galaxy revealed how T-spice did not receive the full payment when he produced his hit track "sekem" five years ago. This act of kindness then compelled him to return the favor by buying a new car for him.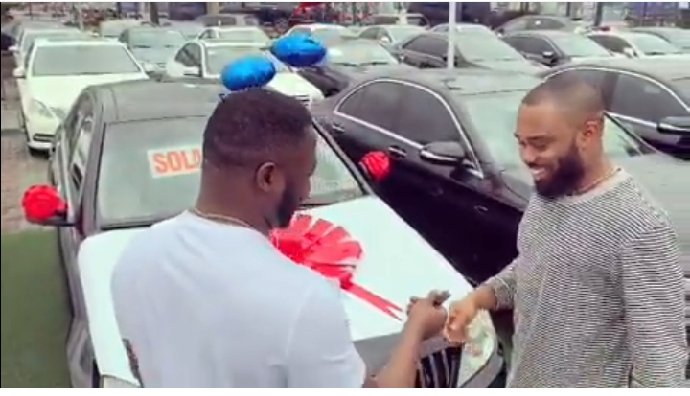 MC Galaxy rose to fame after winning the Davido dance competition in 2012.
Mercy Eke (BBNaija Winner)/IVM G40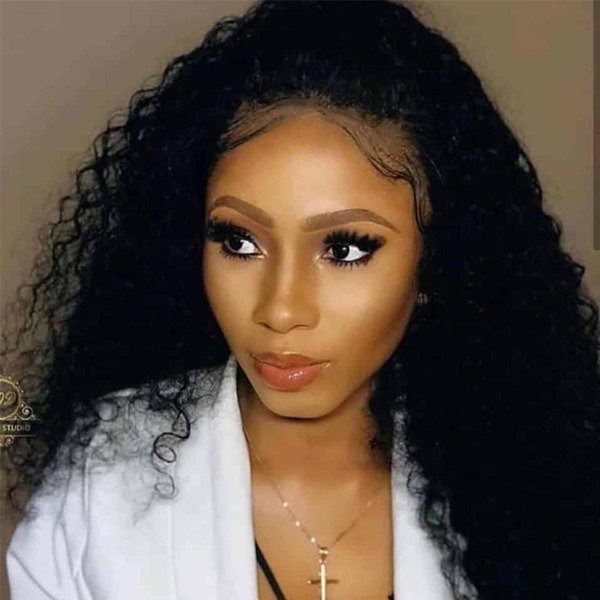 Mercy Eke emerged as the winner of this year's edition of Big Brother Naija Season 4. This made her the first woman to be crowned winner in the show
In keeping to their promise, the organiser of the Big Brother Nigeria reality show, MultiChoice Nigeria, presented Mercy with a cash prize of N30million, together with an SUV – an IVM G40, worth N25million. The SUV was presented to the winner at a well-publicized ceremony.
However, there was a vigorous public conversation centred around the cost of the IVM G40 prize. It was of the opinion of many Nigerians that the G40 was too pricey for a locally-made vehicle. Some suggested that many imported brand of SUVs costs a lot less. A school of thought inferred that the organizers of the show inflated the value of the SUV.
Nwanneka Nkumah a.k.a "Mizwanneka"
On October 18, a young prominent entrepreneur, Nwanneka Nkumah, popularly known as Mizwanneka, announced that she had acquired a 2020 model of the Mercedes-Benz G63 AMG.
Mizwanneka is the CEO of Hair By Wanneka, arguably one of the largest hair business in Lagos.
The 28-year-old mother of two kids started from selling just hair and creating a target market for her brand before expanding into owning an exotic restaurant.  She started her journey in business in 2013.
The 2020 Mercedes-AMG G63 is the most polarizing car in AMG's lineup. It's basically a box on wheels, with looks that haven't changed much since the late 1970s. It even has the sounds to match.
The Mercedes-Benz G63 AMG is estimated to be worth about N120m after shipping and clearing in Nigeria.
Mompha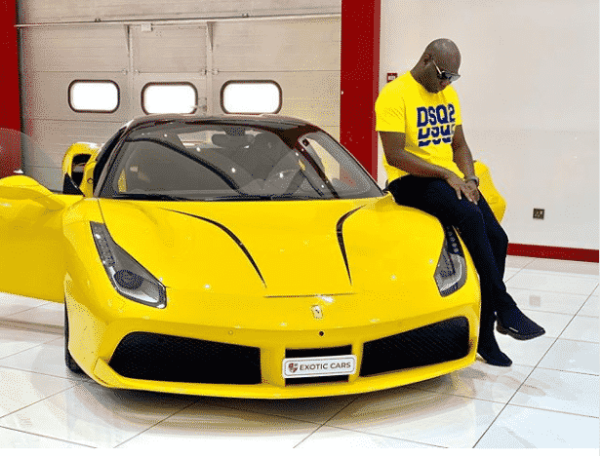 Mompha whose real name is Ismaila Mustapha came under the spotlight in 2019 for diverse reasons.
The Instagram sensation who is known for his flamboyant lifestyle and self-exhibitionism on Social media was mostly in public discourse for the acquisition of some top of the range automobiles.
For instance, in February, he announced that he bought a Bentley Bentayga as a Valentine gift for his wife. The car is worthN99.5 million. He went further to share the receipt of purchase to his online followers.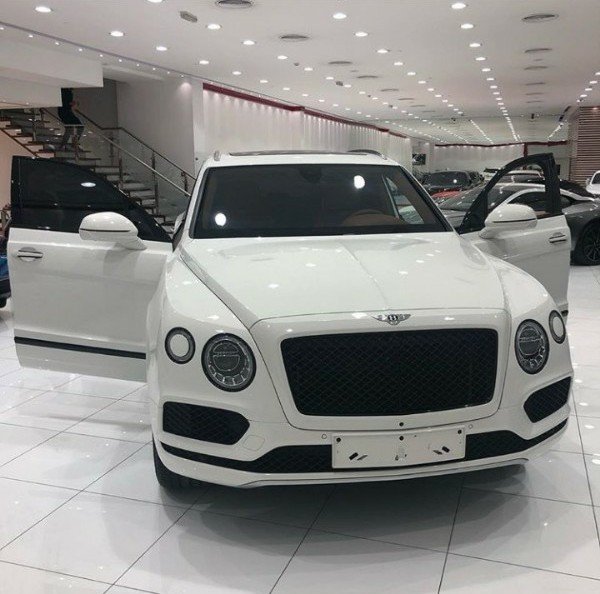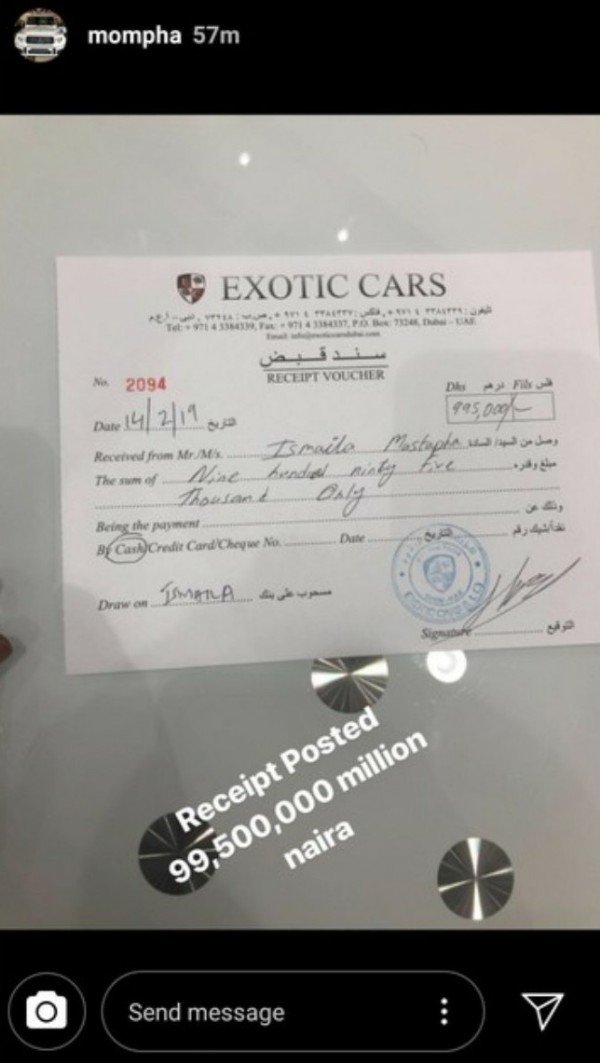 In April, he acquired a N120million Lamborghini Aventador Roadstar LP700-4. Typically, the announcement was made on social media.
In October, Mompha bought a Ferrari 488 Spider. The price of this Ferrari is about N90million. This happened two days after he announced that he had bought a zero-kilometre mileage 2020 Rolls Royce Wraith VIII. He claimed to be the first African to own the Wraith VIII. He took to Instagram to show the luxury whip he claimed he bought for N180million.
All these 2019 acquisitions add to his incredible auto collection that includes Mercedes Benz G63 AMG, a 2018 Rolls Royce Wraith, a Lamborghini Aventador Roadster, and lots more.
On October 2019, Mompha was arrested by the Economic and Financial Crimes Commission (EFCC). He was arrested for alleged involvement in internet-related fraud and money laundering. He has regained his freedom after meeting bail conditions.
Etinosa Idemudia
In November 2019, controversial actress Etinosa Idemudia took to Instagram to announce a heartwarming gift she got after replying to a DM.
"Whatever the enemy has planted in your life contrary to the will of God for your life shall be uprooted this week and beyond🙏"
According to the Covenant University-trained Computer Engineer, she got a Mercedes Benz GL500 SUV from an unknown person that slid into her DM. According to her, it is the biggest surprise gift she has gotten in her life.
Burna boy
Unarguably, 2019 was a phenomenal year for Damini Ebunoluwa Ogulu, known professionally as Burna Boy.
Last year, he made news for several automobile reasons. For instance, in late September, fire engulfed his Range Rover Autobiography. The incident occurred along Lekki-Epe Expressway in Lagos. Thankfully, the star singer was not in the car when the incident occurred.
In early December, the multiple awards winner and Grammy Awards nominee acquired a 2013 Ferrari 458 Italia sports car. He made the announcement on social media.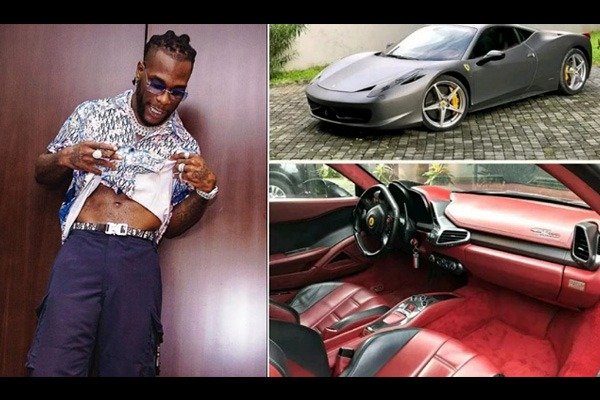 In December, Burna acquired a new Rolls-Royce Dawn Convertible. The car was reported to cost a whopping $346,000 (about ₦125 million). According to the artiste, the car was a gift to himself for a successful 2019. The British handmade 4-seat luxury convertible supercar is his second car acquisitions within a span of a week.
Burnaboy is the grandson of Benson Idonije – the legendary broadcaster, music critic and the first band manager of Afrobeats musician Fela Kuti.
Naira Marley
Undoubtedly, Azeez Fashola, popularly called Naira Marley, has earned a place as one of the most controversial artistes in Nigeria's musical history.
In December 2019, he made car-related news. This happened when a Court in Lagos ordered for his arrest and arraignment for alleged car theft.
He later reacted to the car theft allegations by showing off his amazing luxury car collection on Instagram. The collection includes a Porsche, Bentley and a Mercedes-Benz.
Naira Marley captioned the Instagram post:
"I don't normally do this; I don't like flexing on people that don't have but y'all teaching me how to show off… ALHAMDULILLAH SHA,"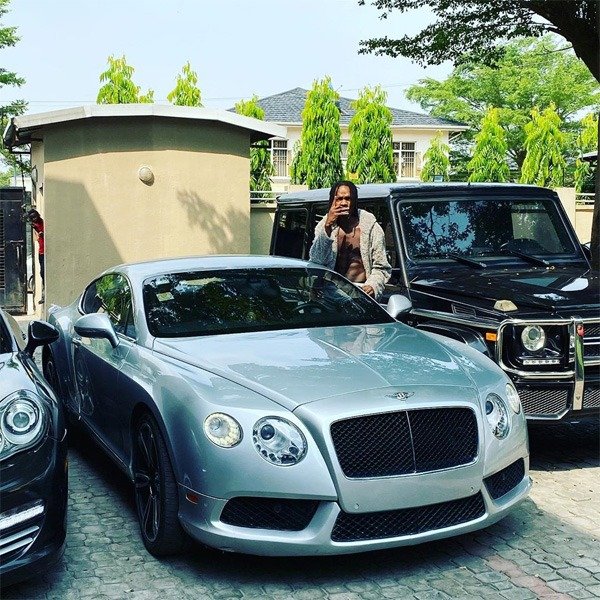 The allegedly stolen car is a Toyota Camry with registration number FEE 120 AA. The car was reportedly taken away when Naira Marley's motorcade hit it. The Toyota Camry vehicle is valued at N1.8 million and an IPhone X5 worth N330,000 belonging to Mr. Adelekan Ademola.
Naira Marley is currently negotiating an out of court settlement in the alleged car theft case, which was filed against him by the Nigeria Police.
Suzuki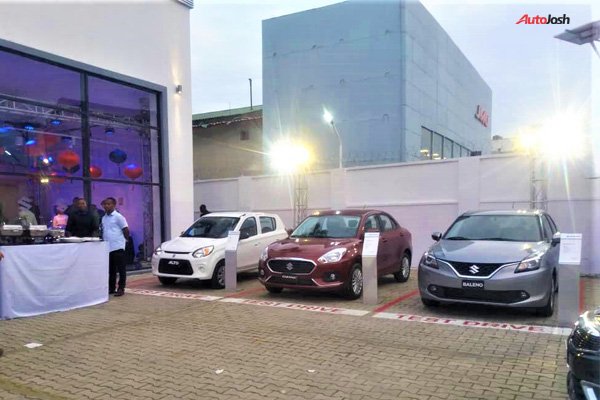 The formal launch of the Suzuki cars in Nigeria got a lot of public attention.
The re-launch of the Suzuki cars brand in the country was facilitated by CFAO Motors. The launch ceremony occurred during the opening of the new Suzuki showroom on Akin Adesola Street, Victoria Island, Lagos. The event was graced by numerous Nigerian celebrities.
The Suzuki models available in Nigeria are city cars. They include Alto®, Dzire®, Swift®, Baleno®, Ciaz®, and Ertiga®. The Off-Road Vehicles/Sports Utility Vehicles (SUVs) are Jimny® and Vitara®.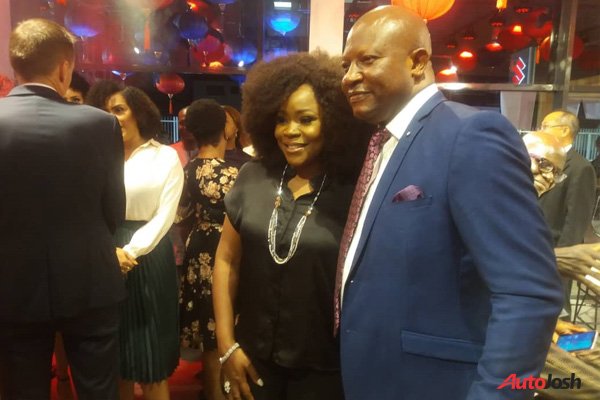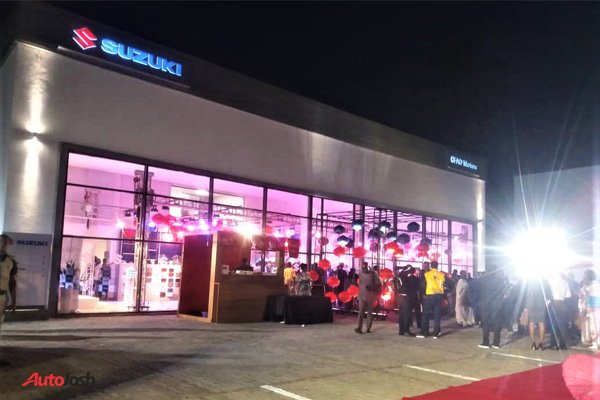 The major talking point of the launch of the Suzuki brand of cars was the announcement of the new Suzuki offer of financing starting from just N85,000 per month with an option to trade-in old cars subject to terms and conditions. In addition during the first year, the customer does not pay for petrol or service.
Tacha
Arguably, Tacha Akide was one of the most popular of all the former housemates of the BBNaija (Pepper Dem Gang).
the former BBN housemate, Tacha, who turned 24 on the 23 of December, got a surprise gift of a Mercedes Benz from her fans.
The reality TV star took to her Instagram page on Christmas eve to share videos from the surprise gift presentation.
Among those who attended her birthday dinner were Bobrisky, Maureen Esisi, and former Big Brother Naija housemate, Esther.