2022 Kia Sportage Finally Unveiled Looking More Radical Than Before (Photos)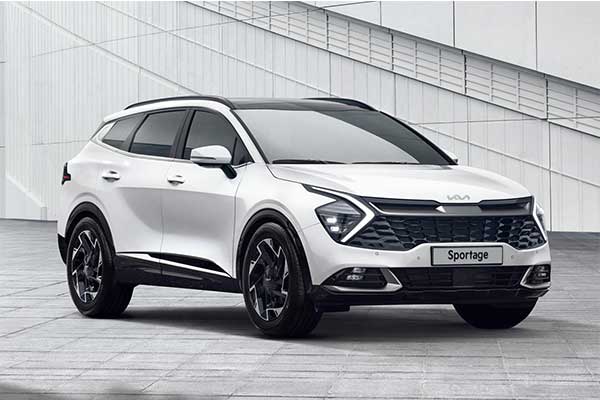 Kia late on Monday provided a preview look at the next generation of its Sportage crossover. The full reveal will take place in July, with sales in the United States likely to follow in early 2022. The small crossover will arrive in our market as a 2023 model. The redesigned Sportage has taken on a dramatic new look, with elements like a clamshell hood upfront and the pinched leading edge of the tailgate looking similar to what we see on Kia's new EV6 electric crossover introduced for 2022. And like most new Kias, there's a grille spanning the width of the vehicle's face. Another interesting element is the headlights, whose main clusters are set low in the face and bounded by boomerang-shaped daytime lights.
The interior is equally bold in its design approach. The driver-oriented dash features an integrated curved display that houses both the instrument and infotainment units. The air vents have a three-dimensional look and are located directly in the display. Kia hasn't provided screen size dimensions just yet. The centre console is finished with a high-end gloss and it contains the gear selector knob and numerous other functions. Speaking of which, there are still actual physical buttons for things like temperature control. Kia says it utilized a ton of high-end materials that are nice to the touch. Another noteworthy feature is the integrated hanger-type designs within the driver and front passenger slim headrests, which allow for rear seat occupants to hook things like bags and purses into place.
There's no mention of what's under the hood but given that the Sportage shares a platform with the Hyundai Tucson, expect an identical engine lineup consisting of a naturally aspirated 2.5-litre base engine with 187 horsepower and 178 lb-ft of torque, paired to an eight-speed automatic transmission with optional all-wheel drive. Turbocharged, hybrid, and plug-in hybrid models are also expected.