2024 Mercedes-Benz GLC Coupe Unveiled In All Its Luxury And A Mild-Hybrid Engine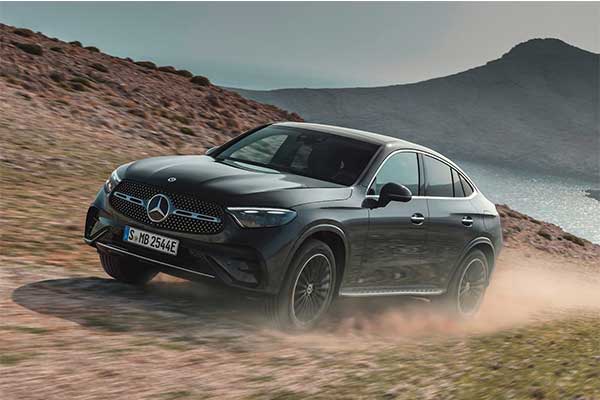 After the standard GLC was early last year, it was quite obvious that the GLC coupe will follow suit and now it has arrived bigger, better, and more aerodynamic than its predecessor.
The 2024 model's styling has the same silhouette as its predecessor and shares many similar design cues too. In fact, without pausing to seek out the differences, we think a lot of people will struggle to differentiate the two. Reshaped headlights and taillights are the quickest way to spot the new GLC Coupe, with the running lights now angling downward along the top edge of the housing.
Other notable features of the GLC Coupe include the integrated ducktail spoiler located below the heavily inclined rear glass, a prominent rear bumper with faux vents, plastic cladding, and a heavy dose of chrome detailing around the dual tailpipes and diffuser. Optional features include running boards and the Digital Light system for the LED headlights.
The interior from the new GLC carries over to the GLC Coupe basically unchanged. It's also given sportier trim with the standard AMG Line package. A 12.3-inch MBUX instrument display and 11.9-inch infotainment screen are standard and are fitted to a fresh new dash with high-mounted, square-shaped air vents and cascading panels. Other standard features include a panoramic sunroof, wireless phone charging, heated front seats, and Burmester sound system.
In terms of mechanics and performance, the turbocharged 2.0-liter four-cylinder engine still generates 255 horsepower, but torque has been increased from 273 to 295 lb-ft. A 48-volt mild-hybrid technology can provide an extra 148 lb-ft and lighten the burden on the engine in certain situations to maximize fuel economy. A new GLC43 Coupe is expected to deliver around 402 hp, while a new GLC63 SE Performance Coupe should offer 671 hp. The figures match what's offered in AMG's C43 and C63 SE Performance sport sedans.