Kia's Most Anticipated 2024 EV9 SUV Has Been Unveiled In Production Form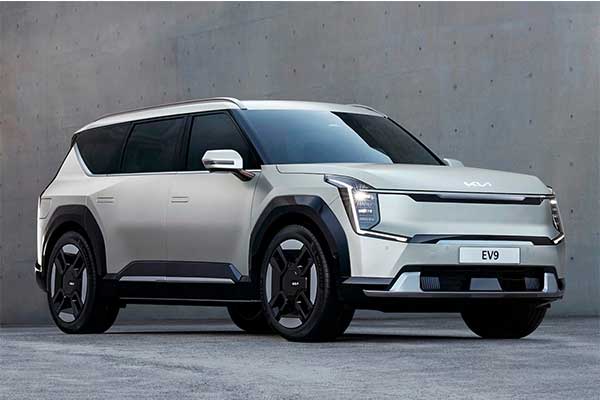 Kia has been really expanding its EV offering and after being in concept form for quite some time now, the EV9 SUV has been unveiled in production form and it's almost like the concept model.
Billed as the brand's flagship SUV, the EV9 features a bold, upscale look that embraces an Opposites United design philosophy and resembles an electric Telluride. The front end sports a "digital tiger face" with vertical headlights and flowing daytime running lights.  They're joined by a sculpted hood, a faux skid plate, and a wide lower intake. The upright greenhouse features a distinct uptick at the rear with a D-pillar design all its own.
While the design may seem complex, there are some basic polygonal elements. We're talking about the pronounced wheels arches, square- and triangle-inspired alloys, flush door handles, and a subtly tapered roofline. At the rear, you'll find the cleanest lines. It's basically just a clean slab with slim taillights.
The cabin takes a similarly evolved approach from the concept. The dash uses negative space to better integrate the floating slab-style display housing (which includes two 12.3-inch displays), itself a refinement of what Kia has been attaching to its production cars for a few years. The shelf-like dash also hides touch-capacitive buttons for navigating the infotainment screen. An open space in front of the center console emphasizes the space and flat floor afforded by the electric architecture.
The second-row seats are notable as they can swivel 180 degrees, so occupants can interact with those sitting in the third row. This doesn't appear to leave much legroom, but Kia noted that third-row passengers will find cup holders and charging ports to help them stay connected and comfortable. The steering wheel is a conventional design versus the concept's yoke, although some of that inspiration makes it to production with the twin horizontal spokes.
Power output is unknown but it is reported that it will have about 300 miles of range and that jibes with the readout in the display of this early prototype, which showed 91 percent battery and 436 km (271 miles) to empty. The concept also promises even faster charging than the EV6.