All Bugatti Chiron Variants And Their Whopping Price Tags
All Bugatti Chiron Variants We've Seen So Far…
Bugatti Chiron is a mid-engine two-seater sports car developed and manufactured by Volkwagen-owned French automobile manufacturer, Bugatti Automobiles S.A.S.
The Bugatti Vision Gran Turismo concept-based hypercar is named after the Monegasque driver Louis Chiron.
Ever since the Bugatti Veyron successor was unveiled at the Geneva Motor Show in 2016, the automaker has revealed different variants of the super car.
These includes the Chiron Sports, the Divo, and the world's most expensive new car, the one-off La Voiture Noire.
All these cars are powered by the same infamous Bugatti's 8.0-litre 16-cylinder engine that takes the standard Chiron to 60 mph in a just 2.3 seconds and a speed of 261 mph.
Let's have a look at the different Chiron-based Hypercars we've seen so far, and the price tags placed on them.
1) Bugatti Chiron, priced at $3 million (₦1.1 billion)
The standard Bugatti Chiron starts at $3 million. These price excludes the destination and clearing cost in Nigeria. Notable owner include Juves Cristiano Ronaldo.
2) 2018 Bugatti Chiron Sport, priced at $3.4 ( ₦1.2 billion)
The Chiron Sport is mechanically identical to Chiron but 18 kg lighter due to extensive use of carbon fibre and stiffer suspension. This features increases its cornering ability. The Chiron Sport is $400,000 more expensive than the standard Chiron.
3) Bugatti Chiron Sport 110 Ans Bugatti, priced at $4.5m (₦1.62 billion)
This limited-edition version celebrates Bugatti's 110th anniversary. Each of these special edition hypercars comes with the Sky View roof and colours that pays homage to France.
Bugatti plans to make just 20 units.
4) Bugatti Divo, priced at $6m (₦2.2 billion)
Named after Bugatti race-car driver, Albert Divo, the $6 million Divo is designed to conquer the corners rather than speed.
All 40 that will be made were sold out even before the unveiling.
5) Bugatti La Voiture Noire, priced at $18.68 (₦6.7 Billion)
The one-off La Voiture Noire, which means "The Black Car", is the world's most expensive new car ever.
According to Bugatti, the unnamed buyer of ₦6.7b La Voiture Noire agreed to buy it on the spot after seeing only the sketches
The owner of the Batmobile-esque hypercar still have about 24 to 30 months before he or she can get behind its wheels.
6) Bugatti Centodieci, priced at $9m (₦3.3 Billion)
The Centodieci, which means 110 in Italian, celebrates Bugatti's 110 years anniversary. It also pays homage to its iconic 90s EB110 supercar, built to celebrate Ettore Bugatti's 110th birthday in 1991.
Just 10 will be built, each with a starting price of $9 million plus VAT.
7) Bugatti Super Sport 300+, priced at $3.89 million (₦1.4 Billion)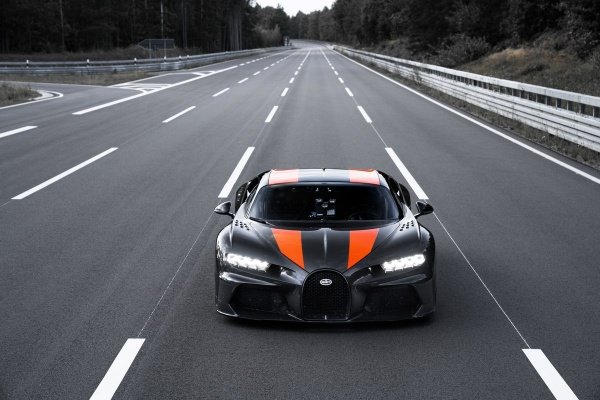 The Super Sport 300+ is the production version of bugatti record-setting Chiron hypercar.
The Hypercar will cost each of the 30 lucky customers a whopping $3.89 million (₦1.4 Billion) at current exchange rates, excluding the cost of shipping and clearing in Nigeria.
This road-going Super Sport 300+ Hypercar will have an electronically limited top speed of 440 kph (273.4 mph).
It will be powered by a quad-turbo 8.0-liter W16 engine that produces 1,578 horsepower, as seen in the recently unveiled $9m (₦3.3 Billion ) Centodieci Hypercar.
Which Variant Of The Bugatti Chiron Is Your Dream Car?