BMW Launches i4 All Electric 4-Door Coupe With More Than 500hp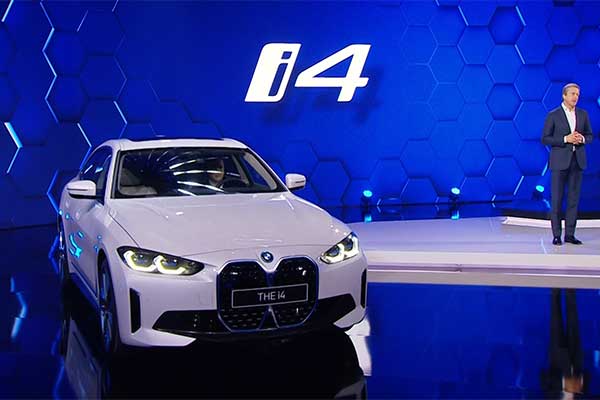 BMW is definitely having its sights on the electric car market and after the release of the iX SUV the i4 sedan shows up. The i4 is loosely based on the 3-Series sedan but looks like the next 4-series gran coupe. The new vehicle was unveiled at the 2021 Media Day event organised by the carmaker.
The new BMW i4 adopts the same front-end treatment as the iX SUV. In addition, a pair of big kidneys act as a cover for the vehicle's numerous sensors. Unlike the iX, this is probably going to be the model's only controversial feature as the rest of the body avoids any design experiments, opting instead for the classic four-door coupe proportions. It is to say that the i4 and the next 4-series gran coupe will look exactly the same but there are cosmetics differences which will be pointed out.
The i4 features blue accents and aero wheels that distinguishes it from the next 4-series gran coupe. There's also a redesigned front bumper and no exhaust tips at the back. It is quite obvious that the i4 will be cheaper than the iX SUV and will be more accessible with the i4 featuring BMW's latest Drive system (8th generation).
The new BMW i4 will be launched later this year with a range of different power outputs and battery sizes. It will be offering a driving range of up to 366 miles on the WLTP cycle and up to 300 miles on the EPA cycle. The most powerful variant of the new BMW i4 will pack a combined 523 hp. It will do 0-62 mph (100 km/h) in "around 4 seconds". BMW didn't reveal the rest of the technical details, as well as any interior shots.