Bugatti Says Buyer Of ₦6.7b La Voiture Noire Agreed To Buy It On The Spot After Seeing Only The Sketches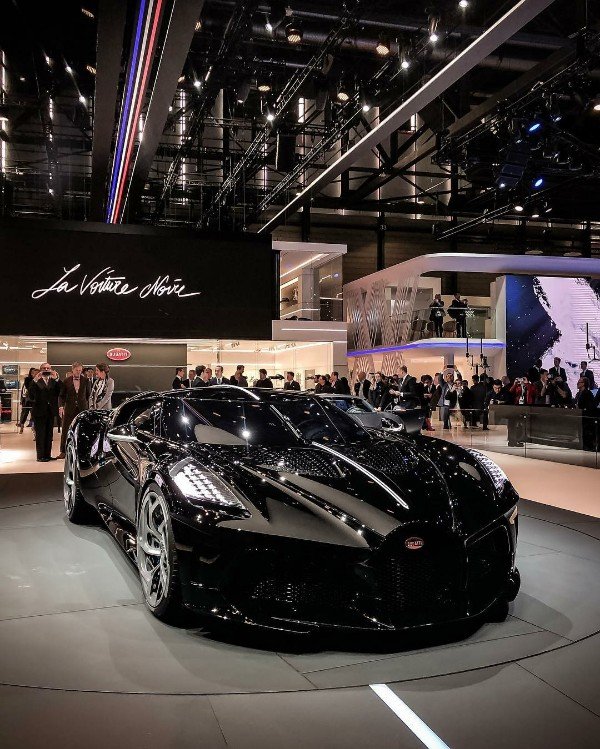 The Bugatti La Voiture Noire, first unveiled at this year's Geneva Motor Show in March and designed as a tribute to the Bugatti Type 57SC Atlantic from the 1930s, is currently touring the World.
The one-off hypercar, which translates to "The Black Car", cost a whopping $12.5 million (and nearly $19 million when you include another $6.4 million in luxury taxes and fees). It is currently the world's most expensive new car.
While Bugatti still remains mum as to the identity of the $18.7 million hypercar's owner, rumour has it that Bugatti aficionado, Cristiano Ronaldo, is the secret buyer of the World's most expensive new car.
The five times Ballon D'or winner, who boast a Bugatti Veyron and Chiron in his over dozen car collections, and currently pockets a whopping ₦333m or ($926,000) per week and ₦1.3b per month at Juventus, was forced to deny that he was the buyer.
Other names that have been floated as possible buyers includes boxer Floyd Mayweather, who once had 3 Bugattis at time, and former chairman of the Volkswagen Group, Dr. Ferdinand Piech.
Bugatti spokesperson confirmed approaching a single buyer with concept sketches of the vehicle, and the customer agreed to buy it on the spot.
"As soon as a customer makes a public claim, then we can refer to that, but other than that we will honor a customer's anonymity and he will decide whether or not he wants to remain anonymous"
The only clue the French luxury Hypercar maker gave is that the lucky buyer is married, and that his wife suggested the Hypercar's six tailpipes.
According to Bugatti, an average Bugatti buyer owns roughly 42 vehicles, five homes, three private jets, three helicopters and a yacht.
Still sporting an electric power-train, but expected to use Bugatti's infamous 1500 HP 8-liter, quad-turbo W-16 engine, the Batmobile-esque hypercar is still 24 to 30 months from completion.