Camper Versions Of The ID Buzz Delayed Due To Heavy Batteries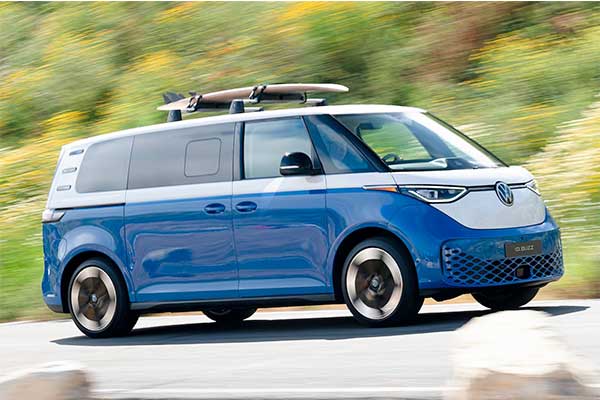 Volkswagen would introduce a camper version of the electric Volkswagen ID Buzz in 2025, but it seems that that variant will not come until much later. An ID Buzz, including camping equipment and a pop-up roof in combination with the weight of the current battery technology, would be too heavy to be allowed to drive in Europe with a passenger car driver's license.
The California version of the extended Volkswagen ID Buzz was supposed to go into production in 2025, but it seems that that production start is being pushed back quite a bit. This is reported by the German magazine Edison, which would have obtained this information from Volkswagen Commercial Vehicles. It even remains to be seen whether there will even be a Volkswagen ID Buzz 'California' this decade, the magazine writes. Due to the still limited energy density of the current generation of battery cells, an extended Volkswagen ID Buzz including camping equipment would become so heavy that the motorhome can no longer be driven with a regular passenger car driving licence.
Not that an extended Volkswagen ID Buzz with kitchen appliances, inverters, a pop-up roof, awning, and furniture would be heavier than 3,500 kg, but according to insiders it is more than 3,000 – and that is too much in Volkswagen's opinion. Add the weight of 2, 3, or 4 people and their holiday gear and you will pass the 3,500 kg limit that applies to passenger car driving licenses in Europe. Volkswagen says it will continue to work on a camper version of the ID Buzz, but it may not come until a new generation of battery technology has arrived.
Until then, there are third parties that offer motorhome conversions for the ID Buzz. At least for those with a short wheelbase; the long variant has yet to experience its market introduction. Volkswagen will also soon introduce a camper version of its Multivan. It can be admired from August 25 at the caravan salon in Düsseldorf.