9 Cars Pictured With Most Stickers On Them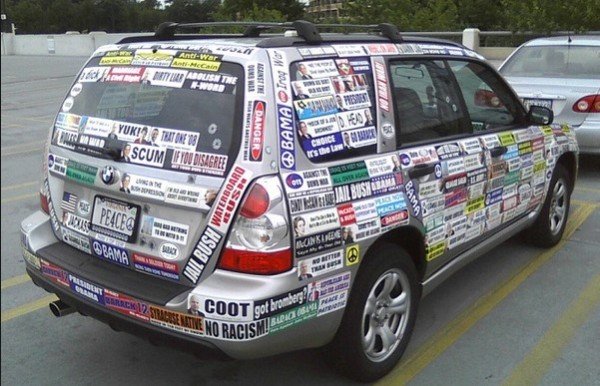 Has it ever occurred to you that some folks are crazy about stickers? It is regarded to be weapons of protection for some people, especially we Nigerians.
How would you know a Nigerian man is a lawyer without the "NBA" sticker on their car? Same goes to the force men.
There are even various categories of stickers you can see on people's cars. They are:
Religious stickers
Foreign Universities Stickers
Motivational Stickers
Professional Body Sticker
Stickers to Haters
Music Followers sticker
The football fan sticker
'Satan keep off', 'year of success', 'heaven is mine', 'year of miracle', 'Don't let the car fool you, my treasure is in heaven', are the likes of what you'll see on most most cars with sticker in Nigeria.
Will you tell me that these people that had all these stickers on their car are normal?