DPO Told Me To Take My Driver To My Village Shrine So He can Swear – Nigerian Whose Car Got Stolen Cries Out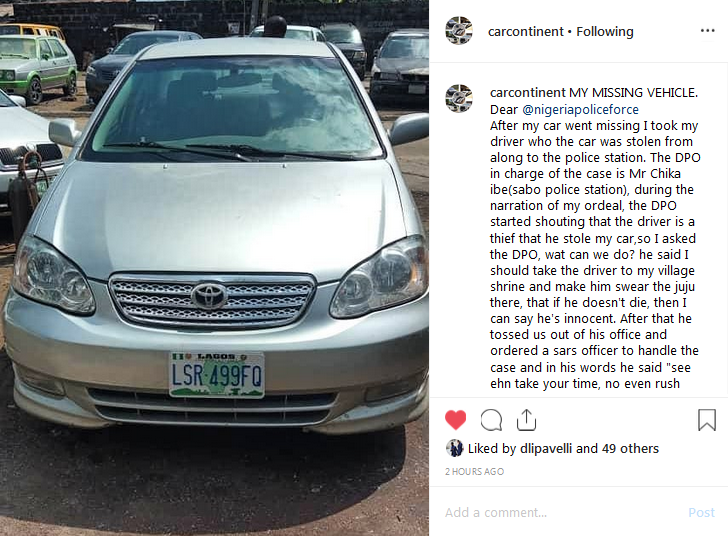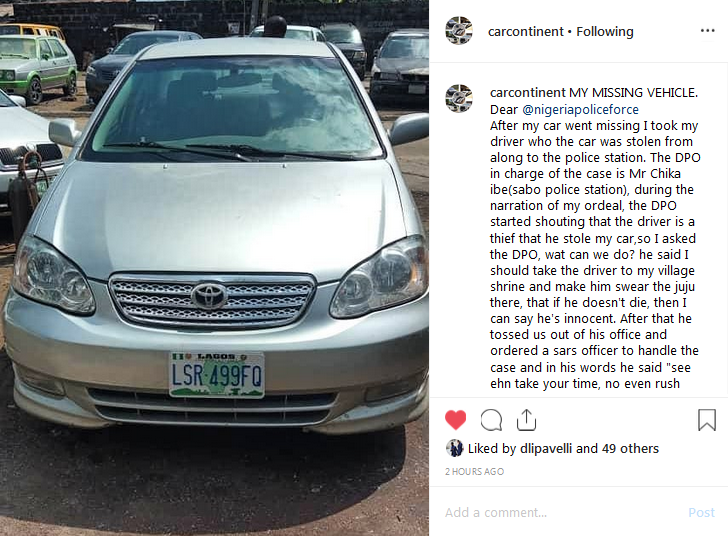 A Nigerian, who is also the owner of Carcontinent automobile page on Instagram, has lamented about his ordeal with the Nigerian Police Force after his car got snatched on gunpoint.
His car is a 2004 Toyota Corolla with the Lagos number plate LSR – 499FQ. It got snatched from his driver on gunpoint.
He reported the case to the Nigerian Police Force but he's not happy with the feedback he's getting.
First of all, one DPO told him to take his driver to the village shrine so he can swear he knows nothing about the whereabouts of the car.
As if that's not enough, he went to another station to make a report where he was told to pay N150,000 for mobilization and then another N50,000 to follow up the case.
He went to another station to know if the driver can be questioned by the police just as we see in foreign movies, but they ended up demanding their own piece of the pie; they want N50,000 too for mobilization.
Read what he wrote below;
MY MISSING VEHICLE.
Dear @nigeriapoliceforce
After my car went missing I took my driver who the car was stolen from along to the police station. The DPO in charge of the case is Mr Chika ibe(sabo police station), during the narration of my ordeal, the DPO started shouting that the driver is a thief that he stole my car,so I asked the DPO, wat can we do? he said I should take the driver to my village shrine and make him swear the juju there, that if he doesn't die, then I can say he's innocent. After that he tossed us out of his office and ordered a sars officer to handle the case and in his words he said "see ehn take your time, no even rush am,no give urself headache for this matter, whenever you like even if it's not today or tomorrow, just write a report and send to me.
My second time was at PANTI while I went to report the issue cos the driver was giving different stories everytime I asked him, I was told it would cost me 150 thousand naira for mobilization and 50 thousand to follow up on the case.
Today I went to zone M idinmu to let them know I want the driver questioned, I was told to go bring 100 thousand for mobilization.
@opetodolapo @aleygiwa @nigerianpolice_ @npf., @[email protected] @instablog9ja Dear @npf do I need this money before you guys can act? Can't our force help me do something?
Plz repost and tag appropriate authorities till we get results
#carcontinent #carconvention