Drag Race: 707 HP Jeep Trackhawk Vs 800 HP Cadillac Escalade SUV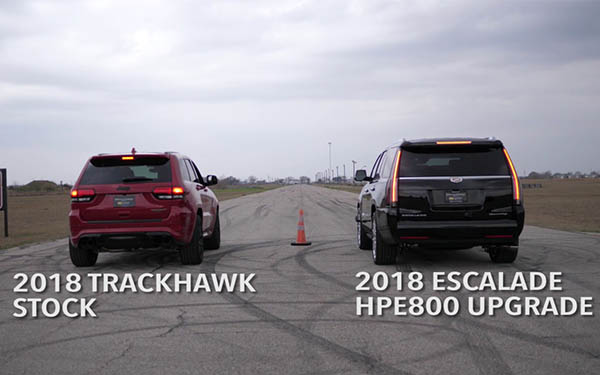 Which do you think is faster between the 707 HP Jeep Trackhawk or 800 HP Cadillac Escalade?
We've always known the Jeep Grand Cherokee Trackhawk as a true performance SUV but the Cadillac Escalade has always been know for it's luxuriousness. However, the Hennessey Performance team has changed that by creating the 800 Horsepower Cadillac Escalade.
The Cadillac Escalade has more power but the Jeep Grand Cherokee Trackhawk is lighter. Now, the question is which is faster? Only the drag race in this video can answer that.
The Trackhawk comes with a supercharged 6.2-liter V8 that generates 707 hp and 645 lb-ft of torque. It dashes to 60 mph in just 3.5 seconds and has a top speed of 180 mph. The Escalade gets about 800 hp and 812 lb-ft of torque.