Ekiti CSDA Hands Over Toyota Hilux Pickup Truck To State CARES Coordinating Unit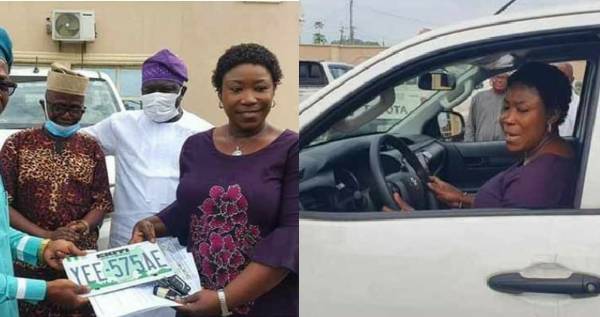 Ekiti CSDA hands over Toyota Hilux pickup to State CARES Coordinating Unit to assist in monitoring and coordinating their activities.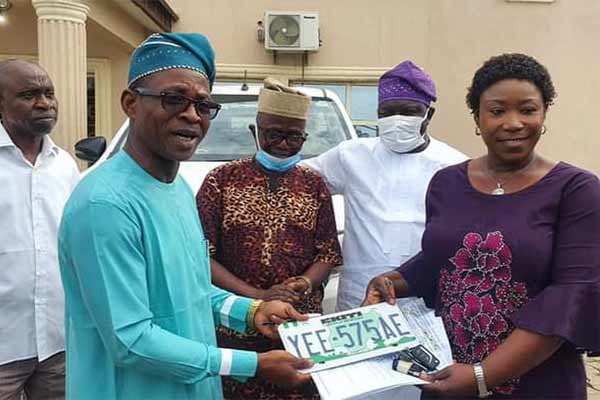 The Ekiti State Community and Social Development Agency, EKCSDA has handed over a new Toyota Hilux Pickup Truck procured by the Federal Project Support Unit of CSDP to the State CARES Coordinating Unit.
The Ag. General Manager of the Agency while presenting the key and other documents of the vehicle to the State Coordinator of CARES programs, Mrs. Bukola Ogunlade, said the vehicle was meant primarily for operational purposes, and to assist the coordinating unit of CARES to effectively monitor and coordinate the activities of all the delivery platforms of the project in Ekiti State.
In his earlier remarks, the Board Chairman of EKCSDA, Chief Biodun Akin-Fasae, urged the State CARES Coordinating Unit to judiciously use the vehicle for the purpose it was meant for.
He specifically charged the State CARES Coordinator to maintain the vehicle regularly to give optimum operational performance on-field activities.
The State Commissioner for Budget and Economic Planning, who is also the Chairman of the State CARES Steering Committee, Mr. Femi Ajayi, thanked Governor Kayode Fayemi for keying into most of the World Bank-assisted Programmes aimed at bettering the lives of Ekiti people.
He said with all the facilities and enabling environment already put in place by the State Government, the take-off of the CARES project in Ekiti would be as smooth and resentful as possible.
Mrs. Ogunlade who later drove the vehicle for testing promised to deliver her duty as expected, and to the best of her ability, and the satisfaction of all the key stakeholders of the project.
The State CARES Programme is a jointly developed, World Bank Supported Programme aimed at mitigating the effect of the COVID-19 pandemic on the socio-economic well-being of our people.
It was designed to support budgeted government interventions at the state level—targeting existing and newly vulnerable and poor households, farmers, artisans, and micro and small enterprises (MSEs) affected by the economic crisis occasioned by the pandemic.