Throwback: See The First Locally Built Warship "NNS Andonni" Commissioned By President Goodluck Jonathan (PHOTOS/VIDEO)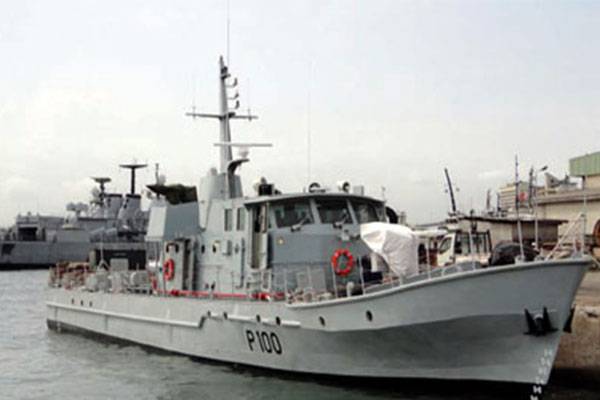 As far back as 2012, Nigeria was able to build the first locally built warship called NNS Andonni.  Nigeria's President Goodluck Jonathan commissioned the NNS Andoni warship.
The commissioning ceremony held at the Nigerian Naval Dockyard in Lagos on the first of June 2012. This was part of the week-long 56th-anniversary celebrations of the navy.
Reacting to the achievement, Jonathan said that the locally built vessel was a sign of the improvement of Nigeria's armed forces. "This is the beginning of a transformation. I believe that in another 10-15 years, we will be thinking of starting a project of taking Nigeria to the air. We have just started and we will continue," he said.
Video of NNS Andonni
"With the current repositioning of the country…already, we now fabricate a number of things locally. I was in Lagos recently to inaugurate one of such; we are currently building equipment for drilling and marine locally. This is the beginning of a transformation. There cannot be transformation without a technological revolution in the nation; this is the beginning."
In the meantime, the then Chief of Naval Staff, Vice-Admiral Ola Ibrahim, said the construction of the NNS Andoni (P100) was a landmark event for the Nigerian Navy. He noted that it was a contribution to Jonathan's transformation agenda. "It is a testimony to our commitment to local content regime. We will not disappoint the nation,"  he said.
Ibrahim added that they built the vessel to International Maritime Organization (IMO) standards. He noted that it would enhance security on Nigeria's waterways.
NNS Andonni
The 31 metre long Seaward Defence Boat had its keel laid at the Naval Dockyard in December 2007. The full construction began in January the following year, according to Nigerian media. However, the construction delayed due to funding issues until Ibrahim approved extra funding. It appears the NNS Andoni is armed with a 20 mm cannon, possibly the Suncraft Ralco.
The vessel was conceived as a research and development project by Vice Admiral GTA Adekeye and Rear Admiral GJ Jonah. They were at that time Chief of Naval Staff and Chief of Naval Engineering respectively.
Also See: Buy and sell cars faster on Carmart NG