Ford Launches First Ever Ranger Plug-In Hybrid Pickup Truck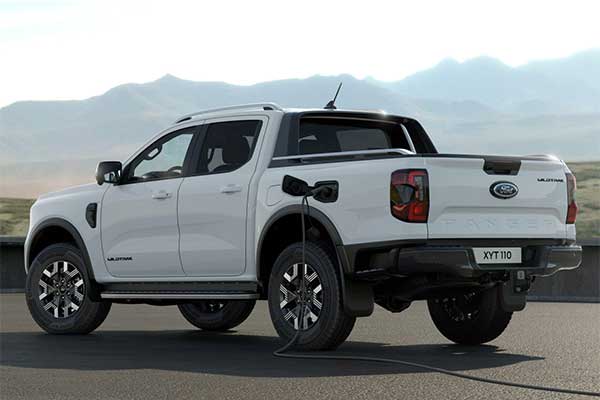 It's strange that a plug-in hybrid pick-up does not yet exist. Ford has quite good and apparently cogent arguments for it. The problem with a fully electric pick-up remains that towing heavy loads has an enormous impact on the range, which is quickly insufficient due to the height and weight of a pick-up. At the same time, commercial vehicles in more and more European cities must also preferably be emission-free. You can't achieve that with the big diesel engine that is usually in these types of 'compact' pick-ups. The PHEV as an interim solution therefore seems ideally suited.
At least Ford thinks so, so it is launching a plug-in hybrid version of the new Ford Ranger launched in 2021. Ford has not yet released extensive specifications but does report that the Ford Ranger PHEV can 'normally' tow 3,500 kg. The combustion engine on board does not run on diesel but is a four-cylinder 2.3 EcoBoost petrol engine. Although the battery capacity is not known, Ford promises an electric range of 'more than' 45 kilometers. This can be completed in one go – more than half of customers drive no more than 40 km per day – but can also be cleverly spread over a long journey. There is a mode in which the car figures this out itself, there is a mode that uses 'geofencing' to know which city centers should be driven electrically and there are modes to save or even replenish the battery content while driving.
An important advantage of a (partly) electric drivetrain in a workhorse like the Ranger is that the power on board can also be used for other things. That is why the Ranger comes with three 10A sockets, two in the cargo box and one in the cabin. Ford provides all kinds of cool applications for this, such as powering circular saws, camping equipment, charging drills, and other power tools. In principle, this is also possible with a conventional pick-up, but in the case of the Ranger PHEV, it works without running the engine. If the battery becomes empty during such use, the motor will automatically kick in. Smart!