Honda Teases The 2023 CR-V's Interior, Gives Lots Of Civic Vibes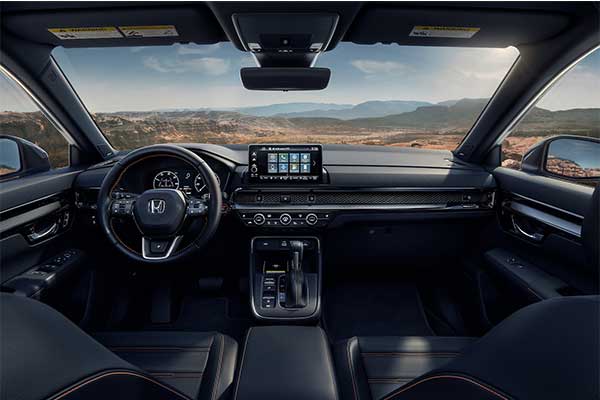 The launch of the 2023 Honda CR-V is very close (July 12) but that didn't stop the Japanese auto manufacturer to give us a tease of how the interior will look like and it gives a lot of Civic vibes.
There are differences in the centre console. The shift lever has switched orientation, with a bank of buttons positioned next to it. The cup holders located in the Civic's centre console are gone, now likely hiding in front of the armrest and out of view of the CR-V teaser photo. Other differences include a tweaked dash top with larger vents and restyled door panels.
Speaking of the cabin, Honda said drivers can look forward to a "comfortable and high-tech interior that's perfect for daily life and fun weekend adventures." While the latter remains to be seen, the teaser image shows the crossover will follow in the footsteps of the Civic and adopt a freestanding infotainment system that presumably offers a 7- and 9-inch display.
The 2023 CR-V might not have a radically different interior compared to the Civic, but it is a significant step up from the previous-generation CR-V. The new crossover will also receive a major exterior design change that looks to tone down the model's frumpier styling with something a bit more mature and refined-looking.