Insecurities: Protesting Youths Block Abuja-Kaduna Highway
Irate youths in their numbers went on rampage as early as 6:00am on Monday and barricaded the Suleja, Niger State end of the popularly Abuja-Kaduna Expressway.
They lit bonfire on the busy road and placed stones and wood on the road to prevent vehicular movement.
They insisted that nobody will pass until the government addresses the issue of insecurity in the area.
The youth, mostly from villages adjoining the highway, are said to be protesting against incessant attacks by bandits and kidnappers on their communities.
They were said to have been angered by the early Monday fresh attack in the area during which at least 12 people were abducted n Gauraka town
It was reported last week of a similar attack in Kwakwashi community where one person was killed and 13 residents were kidnapped.
It was gathered that kidnappers have been operating in the community on a daily basis and abducted many residents.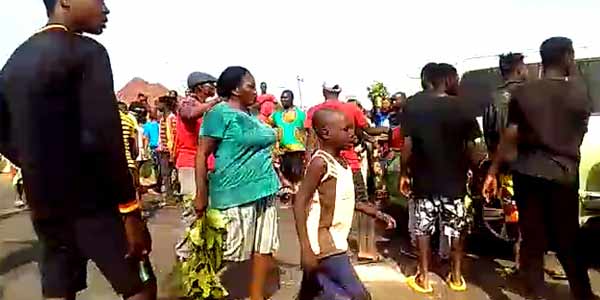 The residents are angered that bandits have been picking people up from house to house without any intervention by the security agents in the area.
Despite the presence of the military barracks – Zuma Barracks– in the area the residents said they were helpless and cannot sleep well.
The protesters prevented vehicles from passing on the road.
The situation has led to heavy traffic congestion.