Jaguar Land Rover Unveils Its 1st Plug-In Hybrid Car,The Range Rover Sport P400e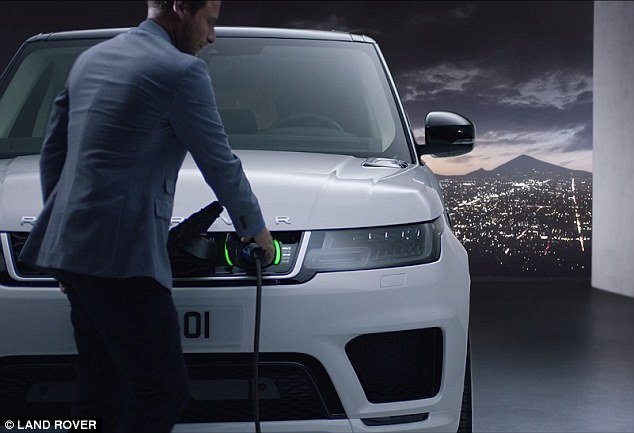 Land Rover has revealed its first green plug-in electric hybrid car,the Range Rover Sport P400e ,which will hit the road next year with a claimed 101mpg.
It will hit 60mph in 6.3 seconds, have a top speed of 137mph. And with a range on battery power-only of 31 miles, while it won't be a Tesla-matching pure electric option the British-built rechargeable Range Rover Sport is low on C02 emissions averaging just 64g/km.
Badged P400e, the new model combines a 300hp 2.0-litre four-cylinder Ingenium petrol engine with an 85kW electric motor to create 404hp of pulling power for the 4X4.
It accelerates from 0-60mph in only 6.3 seconds (0-62mph in 6.7 seconds) and has a top speed of 137mph.
With its electrified powertrain,the Range Rover Sport P400e emits only 64g/km and offers an all-electric range of 31 miles (51km) without the petrol engine running.
The electric motor is powered by a high-voltage lithium-ion battery.
When rapid charging, a full charge can be achieved in 2 hours 45 minutes at home using a dedicated or 32-amp wall box.
The battery can be fully charged in 7 hours 30 minutes using the 10-amp home charging cable supplied as standard.
Access to the 7Kw on-board charger is hidden behind the Land Rover badge on the right of the grille.
A Land Rover smartphone app will let you check the charge state of your car as well as tell you if a charging cable is connected and the range available with the battery power stored.
With the new plug-in Range Rover Sport, drivers can select from two driving modes to best suit their needs.
The default setting is called 'parallel Hybrid mode' and combines petrol and electric drive.
The system uses the sat-nav data to work out when best to switch between the electric motor and the petrol engine to maximise fuel economy over gradients along the route.
EV mode enables the vehicle to run solely on the electric motor using the energy stored in the battery for a zero emissions journey.
That greener dose of 4×4 luxury won't come cheap though. Prices for the plug-in model start from £70,800 to £84,400.
The Land Rover boss said first time,Land Rover customers can experience zero-emission,near silent off-road luxury with uncompromised all-terrain capability,
Credits: dailymail.co.uk/
See Related Post Actor Odunlade Adekola Shows Off His Range Rover (Photo)