Max Verstappen Gives Red Bull The World Title In Japan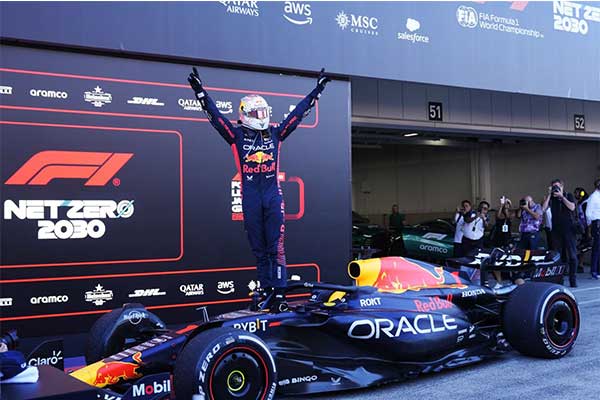 Max Verstappen resumed winning races in Formula 1 in the Japanese Grand Prix. The two-time world champion rode to victory in an old-fashioned dominant manner. With the points he earned, he also won the constructors' world title for the Red Bull team at six races at the end of the season.
Verstappen himself recorded his thirteenth victory of the year. He is heading for his third world title and could possibly win it in the sprint race in Qatar. A week ago he struggled with his Red Bull in the Singapore Grand Prix and took fifth place with hanging and strangling. On the Suzuka circuit, Verstappen was again by far the fastest and the Dutchman outpaced the competition in a flawless race. McLaren's Lando Norris finished second, 20 seconds behind, while his teammate Oscar Piastri finished third.
The mechanics and engineers at the Red Bull team are still wondering why Verstappen was unable to make progress on the Singapore street circuit last week, but the problems were clearly due to the nature of that race track because in Suzuka there was there's nothing wrong. Verstappen drove smoothly and quickly from the first lap in the RB19 and once again had the dominant car with which he has been stringing together victories this season and has already achieved a historic record of ten victories in a row.
Verstappen had to do everything he could in Japan to hold on to first place at the start. Piastri and Norris pressed on in their McLarens and tried to pass the Dutchman before the first corner. But the two-time world champion rounded the bend neatly and came through the first series of bends as the race leader.
The safety car immediately came onto the track, because several cars at the back collided and caused damage. Sergio Pérez tagged Lewis Hamilton and immediately had to pit for a new front wing. Pérez was later involved in a collision again, had to go back in for a new front wing, and also received time penalties. Disillusioned, the Mexican decided to end the race after fifteen laps.
Pérez's quick retirement seemed a setback for Red Bull, as the Mexican could not score points for the constructors' championship. However, Verstappen single-handedly ensured that Red Bull had enough of a lead over Mercedes' rivals after the race to secure the team title for the second year in a row.