Toyota Showcases The Prius 24h Le Mans Centennial GR Edition Concept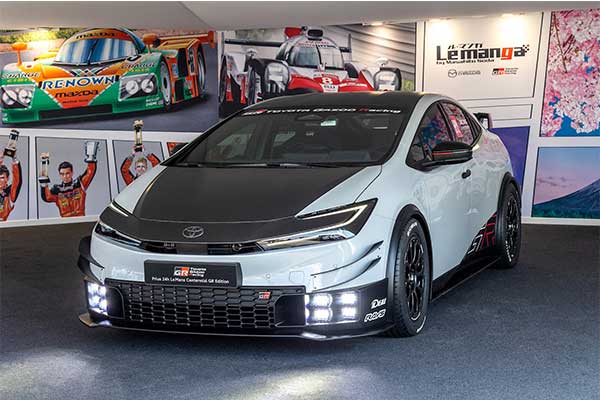 This is the Prius 24h Le Mans Centennial GR Edition, a Prius modified by Toyota's motorsport department and overloaded with aerodynamic extras. The sporty Prius – with which Toyota has celebrated the influence of its motorsport activities on the development of hybrid technology – has side skirts, a rear wing, heavy bumper work, and a carbon fiber hood.
The chassis has been modified and the track width has been increased, among other things to make room for the special 235/50 R18 rubber that has been folded around the new alloy wheels. The external adjustments make the Prius 9 centimeters longer and 5 centimeters wider than the original. The track width has been increased by four centimeters at the front and rear and the show car is also 3 centimeters closer to the asphalt.
Unfortunately, nothing has changed under the hood. The hybrid system has not been fiddled with, and even with all the carbon accouterments, there is no mention of an overall reduction in weight. It seems we'll have to wait a little while longer for the 302-hp Prius GR Sport Toyota bosses dream of. The concept is part of a joint exhibit between the Japan National Tourism Organization, Mazda Motor Corporation, and Toyota Gazoo Racing.
Mazda is involved because it is the first Japanese manufacturer to achieve overall victory at Le Mans, which it managed in 1991, and this year is ideal for showing Japanese excellence in endurance racing since the famous French event is now in its 100th year. Mazda's achievement does not threaten Toyota because it is the only automaker from Japan still competing and is currently on a five-year winning streak.