Michael Schumacher's Ferrari F1-2000 Formula 1 Car Has Been Put Up For Sale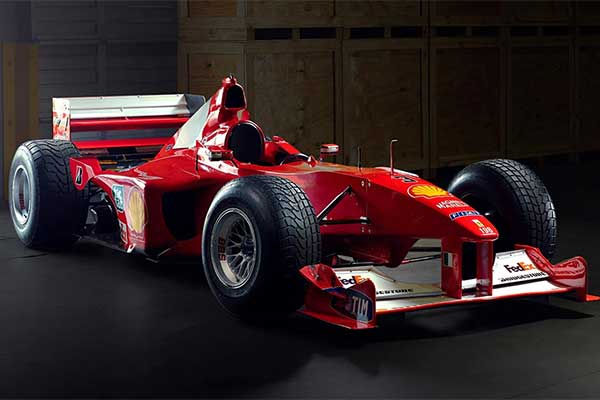 The Formula 1 race car that kickstarted Michael Schumacher's winning streak with Ferrari will go under the gavel this spring.
The legendary F1-2000, which will be offered at a Sotheby's Sealed auction this April, helped the German driver achieve his first World Championship for the Prancing Horse in 2000 and brought the marque its first World title in 21 years. Schumacher would go on to win four consecutive championships with Ferrari in what was an unprecedented period of dominance in the sport.
The dawn of the millennium marked Schumacher's fifth season with the Prancing Horse, but the first in this groundbreaking Grand Prix car. The lightning-fast single-seater was equipped with redesigned 90-degree V-10 engine that could churn out roughly 780 horses via a seven-speed gearbox. This particular example (Chassis 198) was originally used as the team's spare car but was swapped in after Schumacher damaged his racer qualifying for the Brazilian Grand Prix. He went on to win that race in chassis 198, then scored pole positions at the Spanish and Monaco Grand Prix in the car..
"RM Sotheby's has demonstrated that it has an unrivaled track record in bringing the most important Formula 1 cars to auction; a track record which is most closely associated with selling important Ferraris driven by Michael Schumacher, the greatest Ferrari F1 driver of all time," Shelby Myers, global head of private sales at RM Sotheby's, said in a statement.
Chassis 198 will be offered via a Sotheby's Sealed auction that will run from April 3 to 12. Prior to the sale, the car will be on display in Hong Kong from April 1 to 6. The estimate is available upon request.