Theon Design Restomods A 964 Porsche 911 And It Looks Immaculate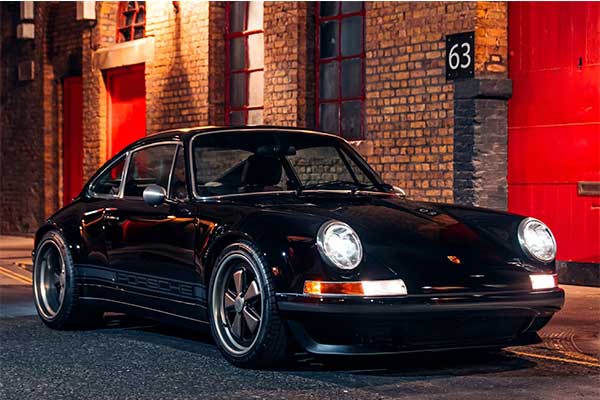 Theon Design is riding the wave of Porsche 911 restomod popularity with its restored 964s, and its latest commission – dubbed ITA001 – has been unveiled as a discrete but heavily reworked version of the icon.
The ethos behind the build, much like all of Theon Design's projects, is to supplement the spirit of the original rather than haphazardly ramping up the power and changing the fundamentals of the design. The ITA001's exterior looks, to all the world, to be a remarkably well-preserved example of an air-cooled Porsche. But underneath the Schwartz Black paintwork is a carbon fiber body, with each panel digitized and scanned to ensure a perfect fit.
Power comes from a 4.0-liter air-cooled flat-six engine that makes 400 horsepower at 7,500 rpm and 315 pound-feet of torque at 6,250 rpm. The mill gains independent throttle bodies and a drive-by-wire throttle. The intake plenum is based on the one from a 997-generation 911 GT3. The exhaust has a ceramic coating.
While the donor vehicle is an all-wheel-drive Carrera 4, the ITA001 is rear-drive. The six-speed manual, limited-slip differential, and brakes come from a 993-generation 911 RS.
The interior is a symphony of old-world luxury and modern appurtenances. Tobacco leather upholstery and suede trimmings blend together to create a wonderful ambiance. The front touring seats are from Recaro, while the rear pews have taken inspiration from the Porsche 928's sculpted rear bucket seats. A sporty satin carbon fiber finish enlivens the fascia.
Peek through the three-spoke steering wheel, and your eyes will meet the traditional Porsche dials featuring tasteful green backlighting. Of course, the tachometer is centrally mounted, giving the owner an undisturbed view of the engine revs.
As ever, such extensive re-engineering doesn't come cheap. Prices for Theon commissions start at £380,000 (excluding the donor car and taxes), and this figure can swell significantly depending on specific customer requests. Each build takes 18 months to complete.