Kia Begins Deliveries Of The EV9 As New EV And Crossover Is Coming Soon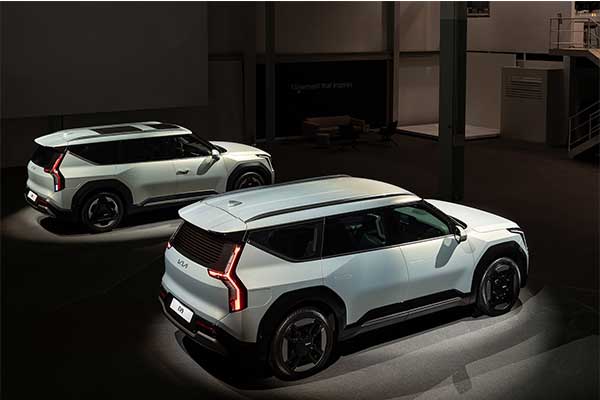 Kia revealed its long-awaited 7-seat electric SUV on March 15. The largest electric SUV from the Hyundai Group (until Ioniq 7 arrives) has taken the world by storm, the EV9 turned out to be very close to the concept car Kia unveiled last year, and customers love it. Three months after the official unveiling, the first units of the EV9 will be delivered to Korean customers today.
In Korea, Kia EV9 is offered in two trims – Air and Earth, and there are two drivetrain options – AWD or RWD. The Air version is the entry-level trim with a highway driving assist system as standard, the acoustic double-laminated glass comes standard as well. The Earth version adds reclining seats for the front row, a 12-inch HUD, and dual-color ambient lighting in the cabin.
The Kia EV9 comes with the largest battery so far – it has a capacity of 99.8 kWh, although other markets will have the optional 76.1 kWh pack. The large battery translates to a 541 km WLTP rating for the LR version with a single 150 kW (204 hp) electric motor. While the world will have to wait for the GT version until 2025, Korean customers will see it first as early as the third quarter of this year.
Kia is on the roll, with the EV6 winning the approval from owners all over the world, and now scores of drivers lining up to purchase the EV9, the company is banking on this momentum. Kia will have 15 electric models on offer by the end of 2027 and will cover every major vehicle segment, according to David Hilbert, Kia's chief of marketing for Europe
The company has recently unveiled the EV5 concept, which just like the EV9 concept, will likely end up being a production model. The EV5 is a C-segment SUV and will debut in China first, with the European market to follow soon after. The company recognizes that Europe tends to have smaller vehicles and is preparing to launch a flurry of new electric vehicles, designed for, and manufactured on the Old Continent.