Kia Showcases A Sportage Sized EV5 (Electric) Crossover SUV Concept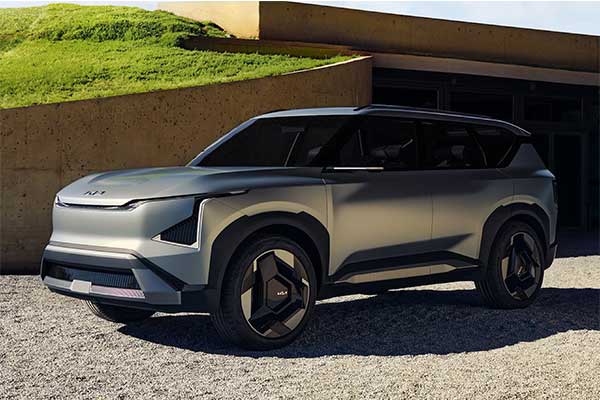 Barely a week after the production model launch of the EV9 electric crossover 7-seater SUV, Kia has yet again showcased the EV5 which is a Sportage-sized electric  SUV.
In these images, the EV5 doesn't look all that much smaller than the EV9, and Kia has yet to reveal the dimensions of this model. Its wheelbase does look shorter and it has two rows of seats compared with the EV9's three-row layout. Nomenclature-wise, the EV5 name also suggests that it will slot in below the EV6, which is a mid-size crossover with a more low-slung profile, in terms of size and price.
Up front, the EV5 wears a new form of Kia's Digital Tiger Face grille with Star Map signature lighting. Like the EV9 and the gas-powered Telluride, the overall shape is boxy with sculpted lines and squared edges. Though these elements will likely be toned down for production, 21-inch wheels, and a roof spoiler give off a rugged and aggressive demeanor.
The interior has a softer aesthetic than the brutalist body. The dashboard is a slab with a single screen spanning roughly half of the width. The driver grips an octagonal steering wheel, and there are a few capacitive buttons next to it. There isn't a traditional center console between the seats. Instead, there's a little storage area ahead of the chairs, which allows the seating to be more of a bench.
Sustainable materials are used throughout the cabin, Kia said. The list includes plant-based materials such as seaweed extract and recycled plastic drink bottles used for items such as the seat trim, headliner, and door and dashboard lining. The production EV5 will be launched in China later this year.