Next-Generation Mitsubishi L200 (Triton) Showcased In Concept As The XRT Truck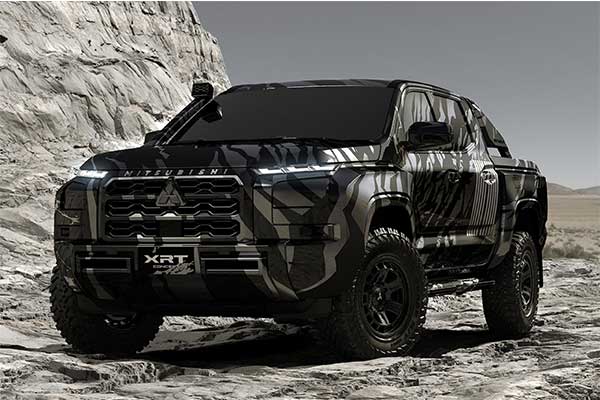 Mitsubishi has offered its first official look at the next-generation L200 (Triton), in the form of a tough XRT concept. Revealed at the Bangkok motor show, the XRT Concept appears to be a pumped- and liveried-up version of an otherwise production-ready ute. It will debut before the end of this month in concept form, with the first production models to hit Thailand sometime during 'fiscal 2023' (March '23 to April '24 inclusive) before rolling out around the world.
The concept looks like a camouflaged prototype of the L200 fitted with off-road accessories. A special wrap inspired by "lava rocks packed with condensed energy" is covering the entire bodywork, side windows, and lighting units, sending military vibes, while the Ralliart logo on the profile is a reminder of Mitsubishi's motorsport heritage.
Mitsubishi remains tight-lipped about the technical specifications but reports state it will use an updated ladder frame chassis shared with the next-gen Navara. From what we can tell, expect a slightly longer wheelbase and possibly a bigger bed, while the rear wheels appear to have drum brakes. The Ford Ranger / Volkswagen Amarok competitor boasts swollen wheel arches, a sports bar, and large side mirrors.
In case you were wondering what is with the XRT Concept's design, the camouflage was inspired by "lava rocks packed with condensed energy," whatever that means. More importantly, it bears the Ralliart mark because Team Mitsubishi Ralliart, with factory support from the automaker, plans to field a cross-country prototype version of the all-new Triton (for Group T1) during the 2023 Asia Cross Country Rally, which is set to take place mid-August.