Honda Showcases 3 New Electric Vehicles At The Shanghai Auto Show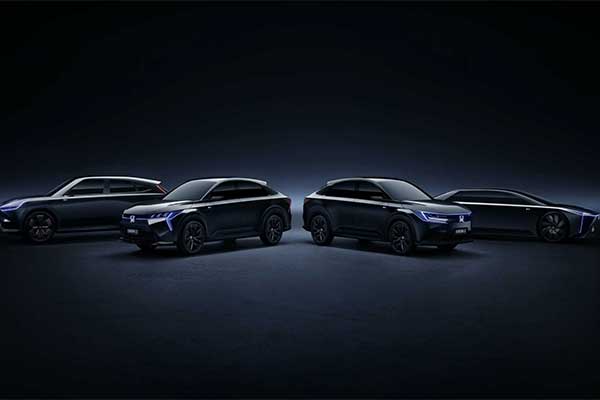 Honda introduced three new electric vehicles at the Shanghai Auto Show with two of them being pre-production prototypes. All three are showcasing Honda's new design language that's full of sharp edges and flat surfaces.
Both the e:NP2, and the e:NS2 prototypes preview Honda's upcoming electric vehicles designed specifically for the Chinese market. The company claims those two electric cars represent a new value to customers and offer enhanced dynamics, technology, and style.
Honda describes the two models as offering "a unique driving pleasure that enables the driver to enjoy a sense of oneness with the vehicle." What the company most likely means is that the new interior will offer a much nicer experience than we are used to expecting from Honda. The new Honda Connect 4.0 system will offer advanced features as well but the company is keeping the details to itself for now.
Looking closely at the two vehicles, we can immediately spot that they are identical. The only differences are headlights and taillights. It's not a new approach from Honda, the e:NP1 and e:NS1 are both based on the HR-V model and both are hard to tell apart.
The company did not share any details of powertrains or batteries but confirmed that both EVs will go on sale in China next year. We can safely assume the cars will be manufactured by the same joint ventures that are producing the current e:NP1 and e:NS1 models.
The third vehicle showcased by Honda was the e:N SUV Concept. Although it uses the same name the company used for its rather controversial design study from last year, we are happy to report that the two vehicles share nothing else.
The Honda e:N SUV looks pleasantly boring. Apart from a few sharper angles than usual, this new all-electric SUV looks really attractive. Thin headlights, rising body line with just a hint of influence from Range Rover Evoque – not a bad-looking SUV at all. When the e:N SUV goes into production it will be the first Honda to be built on an EV-dedicated platform.