Late Paul Walker's 1994 Toyota Supra Already Auctioned For A Staggering ₦220m (Photos)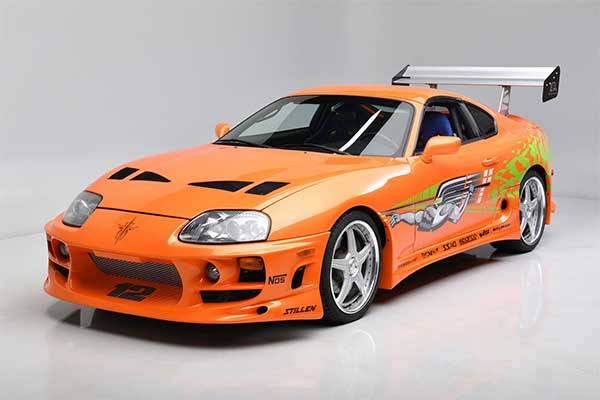 The popular 1994 Toyota Supra driven by the late actor in the 1st two Fast and Furious films has already been sold after it was listed at an auction last week. According to reports, the Supra was sold for a staggering $550,000 (more than ₦200m) thus making it the most expensive Supra ever sold to date. The auction took place at the 2021 Barrett-Jackson Las Vegas.
Unlike the identical-looking 1994 Toyota Supra sold in 2015 for $185,000 which had a naturally aspirated engine and fake nitro bottles, this one has the twin-turbocharged 2JZ-GTE 3.0-litre inline-six. It may have no additional modifications, but the legendary motor is good for around 320 hp and 315 lb-ft. Unfortunately, unlike what the movie suggested, power is transmitted to the rear wheels through a 4-speed automatic gearbox, although the gear knob was disguised for the interior shots to look like a manual.
The Supra features Candy Orange pearl-finish paint from a Lamborghini Diablo with a figure known as the "Nuclear Gladiator" spanning the side. The body kit includes a front spoiler and side skirts from Bomex, a TRD-style hood, APR aluminium bi-plane rear wing, and 19-inch five-spoke wheels. All these kit makes the 1994 Toyota Supra look like a mean beast.
Inside you will find all the stuff you saw in the film, including the three-spoke racing steering wheel, blue upholstery on the bucket seats and door cards, as well as extra gauges on the passenger side and the A-pillar.
One may be wondering why so expensive? But the answer to that is simple, this car is an iconic classic and it also raced Dominic Toretto's Dodge Charger in the 1st film.