Man Sets Father's Car Dealership On Fire, Affects Spare Parts Shops Owned By Nigerians In South Africa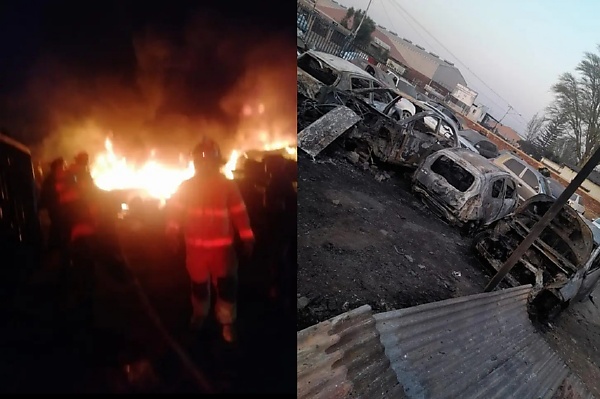 Ugandan sets father's car dealership on fire, escalates to spare part business owned by Nigerians in South Africa.
A statement by Nigerian Union South Africa revealed that 9 cars, vehicle parts worth N65 million were damaged.
"The suspected arsonist is still at large and a case docket has been opened at a Police Station", according to the statement.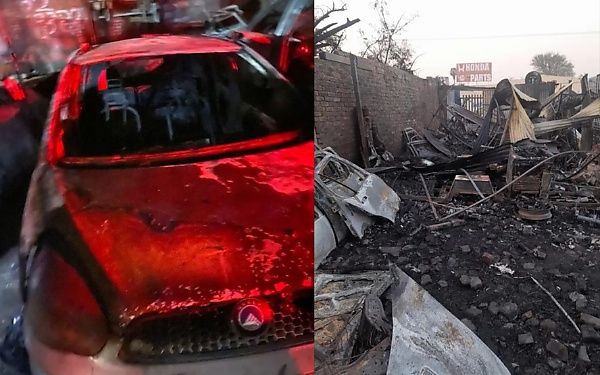 A Ugandan man on a mission to revenge against his father has been accused of setting ablaze the workshop of Nigerian nationals involved in automobile dealings in Pretoria, South Africa.
A statement released by Nigerian Union South Africa (NUSA) revealed that nine cars and vehicle parts worth about N65 million were damaged during the fire incident on September 5, 2023.
One of the affected businessmen, Mr. Owolabi Gbadamosi, narrated that he and his colleagues left work around 6 p.m. on the day of the incident.
He further revealed that he and his colleagues assumed it was the occasional transformer explosion that usually occurred when he received a call about the arson attack at around 7 p.m. on that day.
The statement said :
"When they got a call informing them about a fire at their business unit, they assumed it was the occasional transformer explosion that occurred within the vicinity. That often happens when thieves try to steal cables from the substation. Such blasts did not pose any significant damage to their shop. However, when they got close to the location, they saw flames that gave heads up of something serious."
"When the partners individually arrived at the business property, the fire service were already at the scene trying to douse the inferno. Mr Tunji Balogun, also a cohort influenced by the incident, recounted how he tried to save some of the vehicles during extinguishing."
"But was advised against taking such hazardous action by the fire brigade. This was possibly due to the harmful toxic gases that emanates from such a scenario. Citing an explosion that could lead to severe injuries or death if a safe distance is not maintained."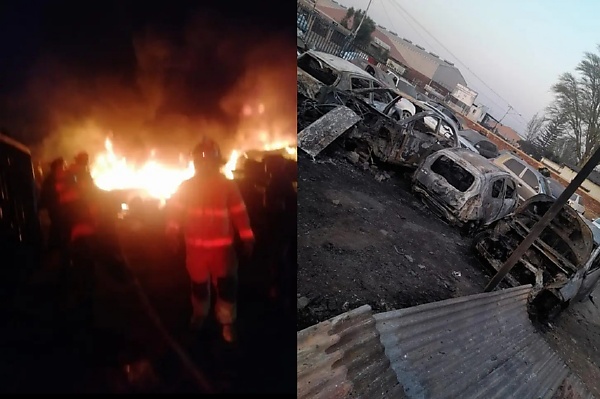 "Before the arson was perpetrated on the property, a Ugandan national, who was subletting part of the location in question was having a conflict with his son. The East African man had been operating an automobile spare part business on the property for 7 years."
"Sometime last year, he established the same type of business in Atteridgeville Pretoria,and handed over the motor vehicle components business in Vom hagen street to his son. According to eyewitnesses, this was because the Atteridgeville location was generating satisfactory net income."
"His son then secured a loan from his girlfriend and began operation and became somewhat successful. In a new twist a month ago, The son of the Ugandan father whose name could not be verified at the time of writing this report carried out a twelve thousand rands (R12,000.00) transaction via his father's bank account. This was as a result of his inability to set up one for himself due to documentation challenges."
"His father only remitted half of the money to him, and the deed infuriated him. The son questioned his father's handling of the situation. Asking how he is expected to make progress if he is not allowed to reinvest money made back into the enterprise. Unable to resolve their dispute, the father decided to reclaim the business from his son, taking advantage of possessing all the legal documents related to the business."
"When his son would not vacate the building, after being verbally informed, the father decided to obtain a court order constraining his offspring from his and the business surrounding. Weeks before the son was alleged to have burned the business, things got so heated that he attempted to stab his father but was restricted by mediators. The son then threatened that it was not the last time the father would hear from him apropos the matter."
"When the business location was set ablaze, the father could be heard continuously lamenting that the fire-raising was perpetrated by his son. It appears the major target of the arsonist was the portion of his father's business on the property, nevertheless it escalated to Mr Owolabi and co's businesses."
"The suspected arsonist is still at large and a case docket has been opened at a Police Station."