Meet Lightyear 0, The World's 1st Production Solar Powered Car
It was in 2019 that Dutch EV startup Lightyear first revealed a concept for a sleek sedan with in-wheel motors and solar panels spanning the hood and roof. Now in 2022, the company has launched a production-ready model.
Much like the concept, the 0 (that's a "zero" in case you were thinking it was the letter "o") wears a strip of photovoltaic cells from its snoot to its boot. According to Lightyear, there is a full five square meters of solar array atop the 0, which equates to 54 square feet, a figure that carries over from the prototype. The tapered tadpole body shape is the same, though it appears Lightyear made some minor concessions to regulatory demands with the 0, enlarging its headlight binnacles and reshaping some aspects of the fog lights and taillights.
The cabin uses sustainable, vegan materials like microfiber upholstery, plant-based leather, fabrics made from recycled bottles, rattan palm wood trim and insulated particle foam. Mounted on the dash is a 10.1-inch touchscreen that runs the Android Automotive operating system, and the 0 has features like built-in navigation, Android Auto and Apple CarPlay, phone-as-key capability and over-the-air updates. The 0 has room for five adults, though while the interior looks spacious and open the lack of a sunroof or rear window might make it a little claustrophobic.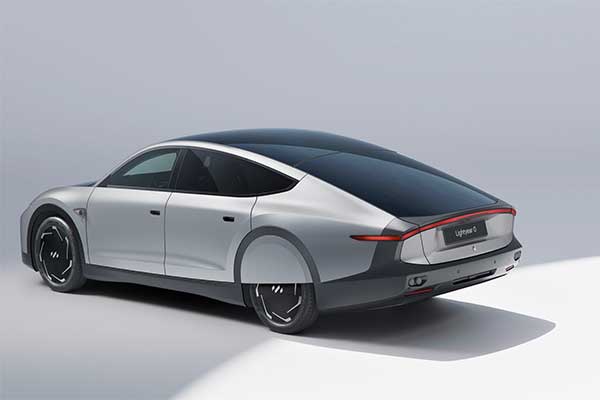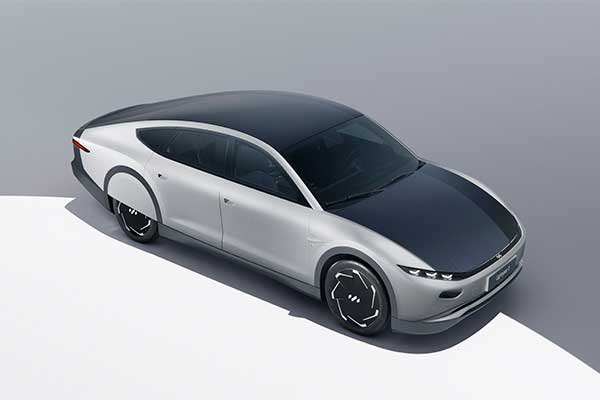 The 0 features a 60-kilowatt-hour battery which the company claims will deliver a range of 388 miles on the WLTP test cycle used outside the U.S. This should still result in more than 300 miles on the stricter cycle used by the EPA.
The key to such a high range with such a small battery is efficiency. In addition to having a claimed drag coefficient of less than 0.19 Cd, which would be a record for a production car (the lowest is the Mercedes-Benz EQS at 0.20 Cd), the 0 also features efficient motors, inverters and tires.
Depending on the country you're living in, Lightyear says you could drive for up to seven months and 4,598 mi (7,400 km) without having to plug in the car. Granted, that's available for those living in Portugal, but we can see it happen in Miami or Las Vegas. Surprisingly enough, the top speed is limited to 99 mph (160 kph), and the 0-62 mph (0-100 kph) acceleration time is 10 seconds.
Lightyear revealed that commuters will be able to obtain an extra 6,835 mi (11,000 km) of range just from travelling around. This has been concluded after tests done in Southern Spain.
Only 946 units of the Lightyear 0 will be produced, and it ain't cheap. Lightyear says the 0 starts at 250,000 Euros (about $266,000), nearly double the initially announced price of the One in 2019.